The GreenWorks 80V PRO is a dominant snow blower that continues to leave its mark in this market. Since its release in the winter of 2014, it has attracted praise globally due to its superior construction and performance. However, I suspect that most homeowners have never heard of nor used this product. I also suspect that the thought of owning a battery-powered snow blower has not crossed the minds of many.
If you require a powerful snow blower that does not release toxic fumes not require extension cords to work, you are looking at the best battery-powered snow blower available in the market today.
Overview of the GreenWorks 80V Snow Blower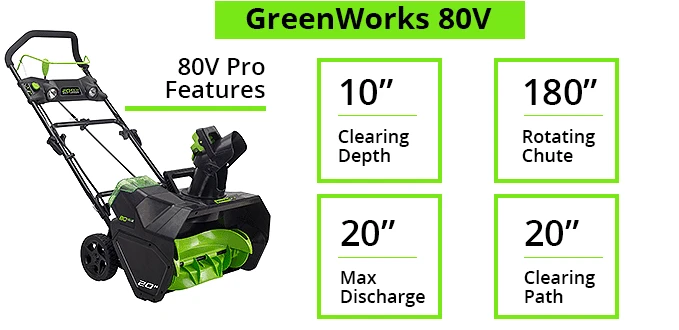 This dependable battery-powered snow blower has some caveats that we have reviewed in detail later in this article.
With its innovative engineering - the GreenWorks 80V snow can clear up to 20-inch wide and 10-inch high snow. The lithium-ion battery charges in less than 30 minutes but can power it for up to 40 minutes, depending on how you use it. It also has bright LED headlights (2) that enable you to navigate it on your yard effortlessly at night.
The package includes a Snow Thrower, Owner's Manual, and a 2.0AH Battery and Charger
Download or view the GreenWorks 80V snow blower's MANUAL.
Features of the 80V Snow Blower: Model 2600402:
A fully charged 2.0AH battery has a maximum run time of 45 minutes.
High torque DigiPro brushless motor is powerful and efficient.
Wide (20-inches) clearing path.
Battery charges in less than 30 minutes.
Perfect for clearing walkways, driveways, and patios.
Can clear snow up to 10-inch deep.
Rotating Chute (180°) that displaces now effortlessly.
Throws snow up to 20 feet.
Dual LED Lights illuminate yards or your path at night.
Folds into a compact package for safe storage.
Large (6-inches) rear wheels make it easy to maneuver in the snow.
No maintenance required as it is quiet and does not release fumes.
Rapid Charge: 60 minutes for the 80V 4AH battery and 30 minutes for the 80V 2AH battery.
Compatible GBA80200, GBA80400 and GCH8040 battery and charger models(Additional high capacity batteries coming soon).
Details are available at Amazon.
Before we highlight the details of this product, you should watch the video shared below. It provides an overview of the 80V snow blower.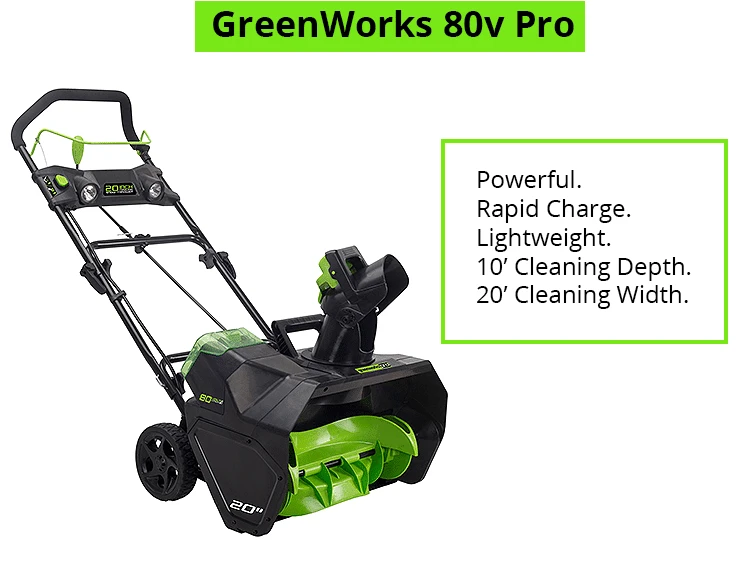 Video Review of the GreenWorks 80V Snow Blower
Note : We have shared many other videos at the end of the article, all containing useful information that will help you to ascertain whether the snow blower might be the best for you - or not.
Backed By GreenWorks 4 Year Warranty
You can ascertain the reputation of a manufacturer by checking the length of the warranty offered. Well, with GreenWorks, you get a 4-year warranty, which is significantly longer than the average warranty offered by some of its competitors. They deserve a pat on the back for standing behind their products and supporting their customers when in need. You are buying an expensive tool, but the 4-year warranty should assure you that your money is safe if the 80V snow blower fails.
Nobody wants to buy an expensive tool, only for it to break down and lay idle in the garage due to its high maintenance system. Four years is a long time, making the warranty from GreenWorks a highly generous one. By the way, other GreenWorks tools and have a 4-year warranty.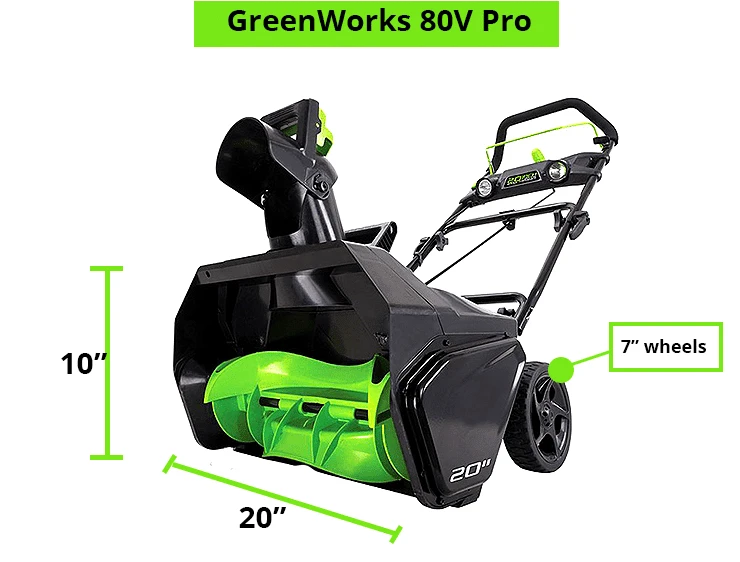 The 80-volt GreenWorks Snow Blower is currently the most powerful product in this niche. Maybe the company will release a newer 120-volt model in the coming years to rival this one. Who knows? However, as things stand, the best is here with us. If you need a powerful product that works seamlessly in most settings, this is it.
Technology has grown rapidly in recent years, making it one of the best brands in the market. It has its unique strengths and cons, which we will talk about shortly. Even though costly, the value of this battery-powered snow blower far outweighs its price. For instance, GreenWorks 80V has a low maintenance design that does not release toxic fumes and is very quiet. Therefore, it is pleasant to use at 3 am or 11 pm without annoying and or irritating your neighbors - they will never hear you shuffle snow. Expect your neighbors to be jealous of your powerful and cool looking "toy." Furthermore, because the snow blower has a battery-powered design, you will never wrestle with an extension cord while cleaning snow buildup, which is fun. You will never have to stop working in the middle of a job to untangle a power cord or unhook it from tree branches or corners. Its operation on yards is seamless.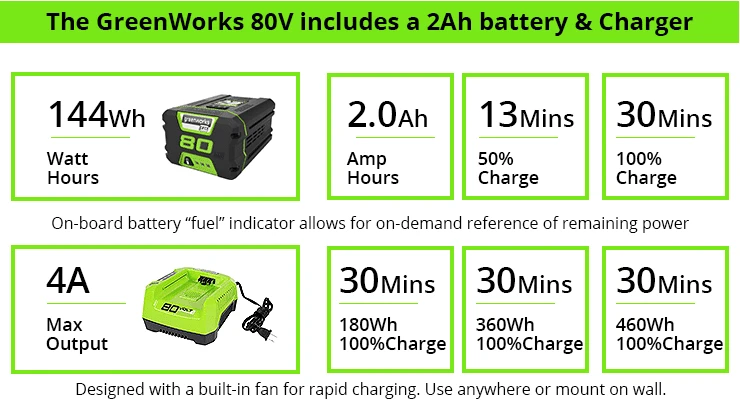 With this product, you will never spend tons of money on fuel. I am an advocate for battery-powered snow blowers as they are the best for the average homeowner. If you are like Mary Anne next door, who does not like tinkering with tools while clearing snow, you will love this one. You do not have to change sparkplugs or oil to keep it working.
Husqvarna ST224: The Alternative to GreenWorks 80V Snow Blower for Heavy-Duty Gas Snow Blower
Second, if you live in a blizzard-prone area such as Buffalo and require a heavy-duty snow blower that can clear thick buildup quickly, you should look for a gas powered snow blower Husqvarna ST224 (24-in/ 208cc). Read the Best Single Stage Snow Blowers for more options.
In terms of power, gas snow blower dwarf electric/battery-powered snow throwers. Their performances are not comparable. Bear that in mind whenever you are ordering the best snow blower for your home.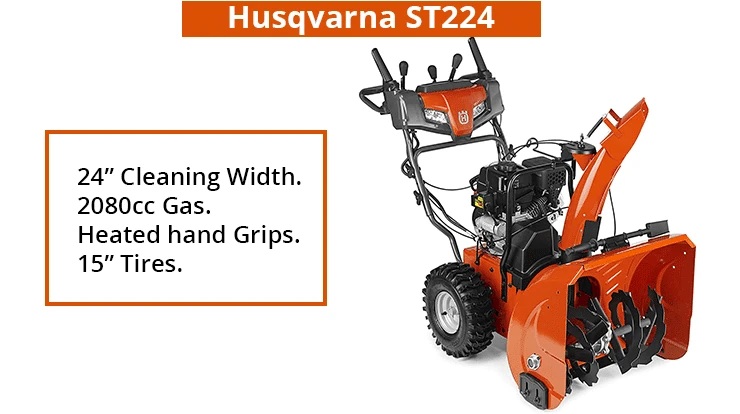 Two-stage snow blowers have heavy-duty metal components that last longer than the 80V GreenWorks model's plastic components. Therefore, while this product is durable, it cannot handle the pounding and or abuse that the best gas snow blowers often endure. However, you will have to dig deeper in your pocket to own a gas blower. Weight the cost-benefit of your purchase before committing. Choose the best.
For example, if you are a resident of Seattle, where winters are mild, you might not need a gas snow blower. However, if you are a resident of New Jersey or New York, where winters are harsh, you should spend more money on a gas snow thrower - you will need it.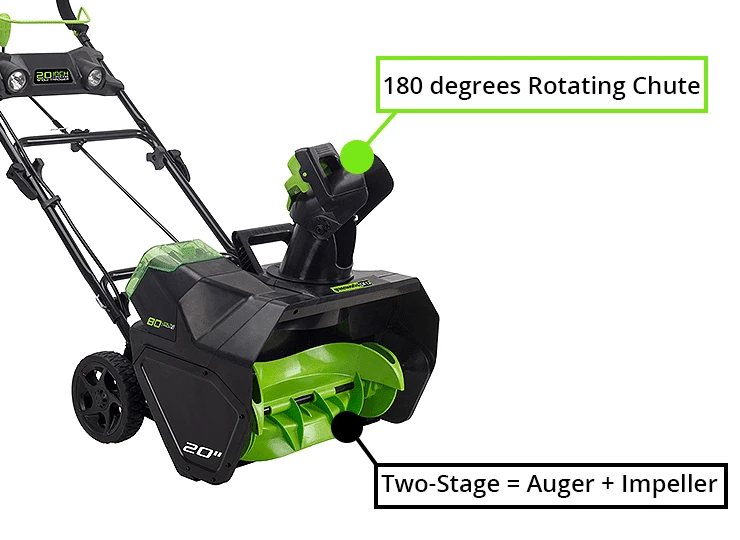 High-Quality Tools | Great Value
GreenWorks manufactures excellent tools. Its average ratings on reputable sites such as Amazon will amaze you. Every product has a consistently high rating, which mirrors its quality. Moreover, most homeowners love the plethora of features packed in its cost-effective garden tools and lawnmowers, readily available online.
If you have questions or concerns about the 80V GreenWorks snow blower or any other product in their portfolio, you can reach them by:
Calling 1-888-90-WORKS
Monday - Friday 9 am to 8 pm EST
Saturday - Sunday 9 am to 5 pm EST
Snow Joe iON18SB: Another good Alternative to GreenWorks 80V Snow Blower
If you need an excellent alternative to the GreenWorks 80V, the Snow Joe iON18SB is the right choice. Even though it is not as powerful as the GreenWorks 80V model is, it can hold its own during a winter storm.
This battery-powered snow thrower from Snow Joe is reputable globally due to its dependability, which the company has tracked as customer feedback since the winter of 2013. It has been in use longer (one year) than the GreenWorks 80V battery-powered snow blower.
While Sun Joe is not as powerful as the GreenWorks model, do not let this fool you. It has a dependable 40V battery pack - but that does not mean that it is half as powerful. Voltage does not always translate to power. I will not talk about this in detail herein buy you can learn more about the association in our in-depth article on the Snow Joe iON18SB.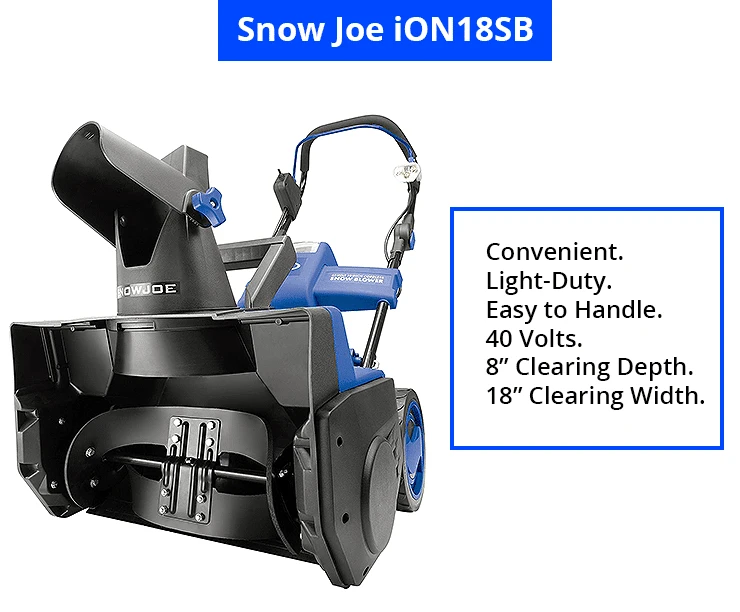 The GreenWorks 80V Snow blower is an excellent machine and the Snow Joe iON a fantastic alternative to consider.
Plan Ahead | Winter is Unpredictable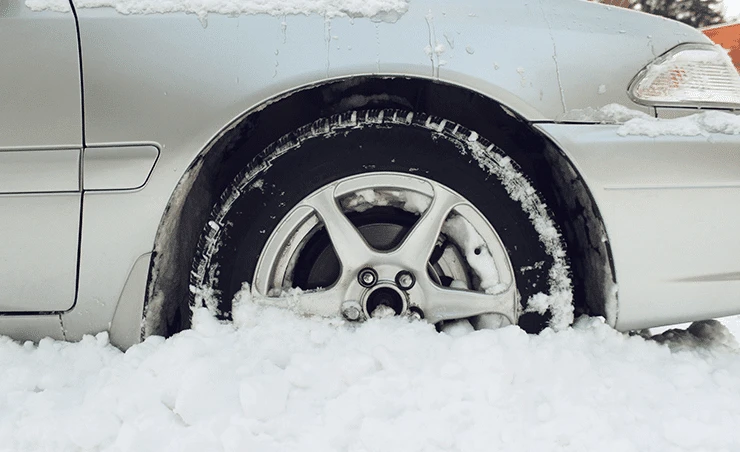 Most homeowners wait for the first snowflake to fall before preparing for winter, which is a big mistake. Unfortunately, it is often too late as most people are on the hunt for snow blowers at this time. If you are lucky, you can get the last blower at Home Depot, but it is not always the case, as most stores do not stock enough tools for everyone.
My recommendation is that you should always plan. If you experience heavy snowfall in your area every year, have a snow blower in hand if a blizzard hits. If you have a mild winter, it is still okay, as you will benefit from the snow blower the next year or when a blizzard hits. It is human nature to react after a tragedy, or crisis hits before taking action. However, gambling with Mother Nature is a bad idea as it can be unforgiving when enraged. You will sleep better at night if prepared.
Winter 2015/2016 | El Nino Year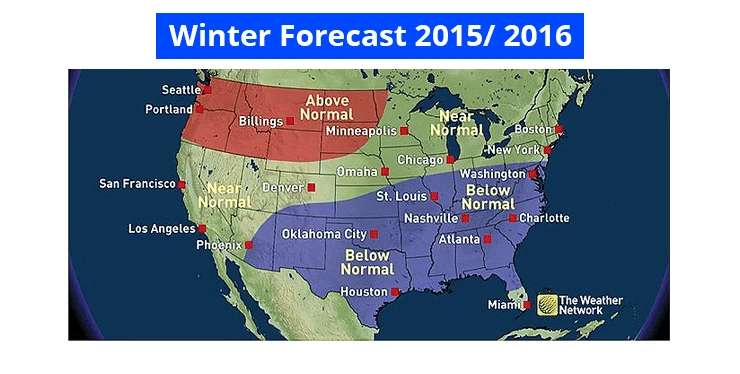 The El Niño reported during the 2015 winter was "Godzilla" in terms of its ferocity and holds the record of the most robust blizzard to date. Why am I opening old wounds by bringing up the top in a GreenWorks Snow Blower review? Well, while El Niño seemed to be an isolated, one-time event, it is more likely to happen again in the future.
Moreover, El Niño has affected the United States' relative temperatures and therefore needs our undivided attention. During a typical El Niño year, Northern USA experiences warmer and milder winter than usual, while the South has a colder and cooler climate.
In addition, El Niño brings more storms, which translates to a lot of rain if you live in a temperate region and massive snowstorms in cold regions. El Nino comes with many uncertainties during winter that you should prepare adequately to have the best outcomes. If you live in Seattle, you will require a good umbrella instead of a snow blower. However, if you stay in California, expect more rain than usual.
What are the predictions from the experts?
Wetter : Southern U.S. from California to the Carolinas and the East Coast.
Drier : Sections of Ohio Valley, Northwest Rockies, Northern Rockies, and the Great Lakes.
Cooler : Desert Southwest, northern Gulf Coast, and Southern Plains.
Warmer : Northern tier of states from the Pacific Northwest to Great Lakes, Northern Plains, and Northeast Plains.
Overall Impression for the GreenWorks 80V Series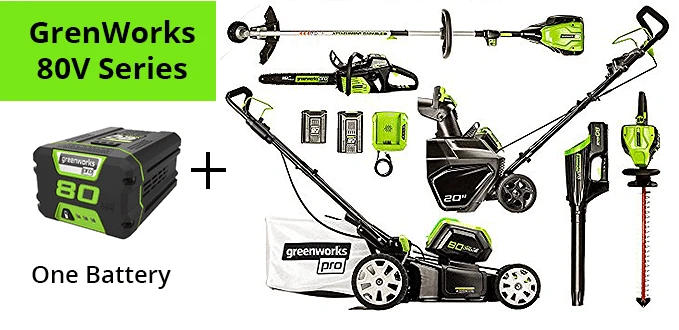 I have reviewed GreenWorks tools extensively, the most recent one being the 80V chainsaw. Over the years, GreenWorks has released a plethora of 80V power tools that continue to fascinate homeowners to date. One battery can power all its items issue free. Therefore, for people who depend on power tools to clean or clear snow at home, it is economical to buy multiple 80V series tools from Greenworks as you save on batteries. For example, if you want to buy a new lawn mower, look for the GreenWorks GLM801600 80V. This way, you will not spend extra on another battery as the tool comes separately.
Think long-term while shopping. Compare the cost of buying one brand as opposed to multiple brands that need batteries with each purchase.
✓ Here is the original Press Release circulated on Oct 23, 2014: Introduction of GreenWorks 80V Tools.
Compatible GreenWorks 80V Power Tools: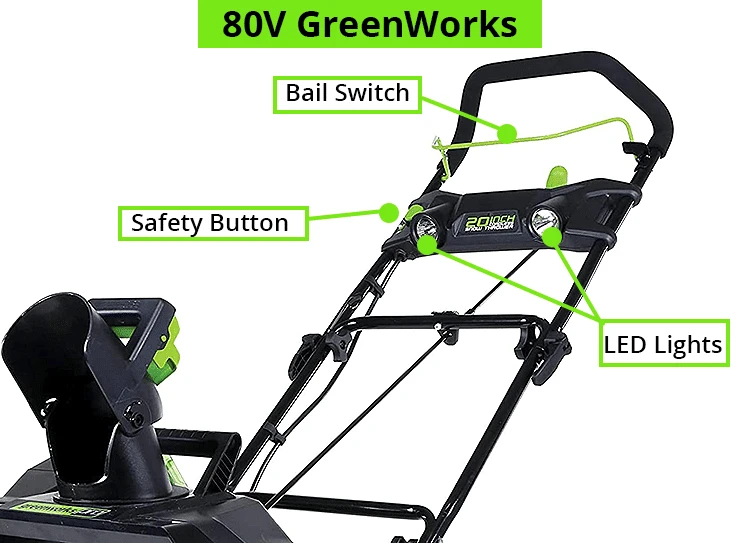 Technical Specs of the GreenWorks 80V Snow Blower:
Motor: 80-Volt brushless motor
Battery type: 80-Volt Lithium-ion
No-load speed: 1,900 RPM
Working width: 20 inches
Wheels: 7 inches
Weight- 5 pounds (without battery)
✓ TIP: The battery might fail to work if temperatures reach -17˚C or lower. If your unit fails to start, remove the machine's battery and charge it for around 10 minutes to warm. When done, disconnect the charger, install in your snow blower, and fire it up again.
Batteries | GreenWorks 80V Snow Blower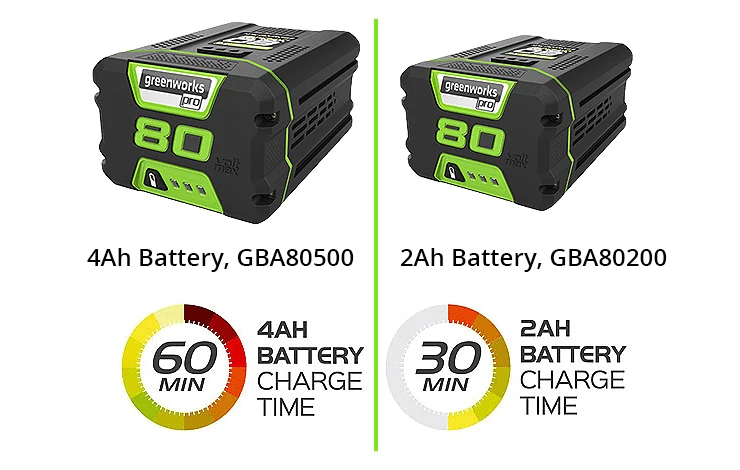 Available Batteries for the GreenWorks 80V Snow Blower:
GreenWorks GBA80200| 80V 0Ah

30 minute charging time

GreenWorks GBA80400| 80V 0Ah

One hour charging time
According to GreenWorks, the 2Ah battery in this snow blower has a run time of around 40 minutes. In essence, you will get around 20-35 minutes of blowing time from an original one, which is acceptable. The run time is dependent on the volume of the snow that you are clearing.
To handle a thick storm like a professional, you should consider buying an extra battery. Even though expensive, the 80-volt batteries are the best. If you can afford one and live in an area prone to heavy snowfall, you should seriously consider buying a back-up battery.
The 2AH battery in the GreenWorks 80V takes around 30 minutes to charge, which is convenient. As it charges, you can prepare a cup of coffee, chocolate, or tea in preparation for the hard work ahead.
If you were like me and like completing jobs on time, you would be frustrated to buy a tool that runs out of power midway of a blowing job.
Battery Features :
Lithium-Ion cells provide fade-free power. Therefore, the blower will never slow down while in use.
The battery level indicator is easy to use.
The battery can work in most 80V Pro power tools. Therefore, you only need one battery to power the whole system.
Compatible with the GCH8040 charger (included).
Video | Commendable Snow Throwing Ability
Benefits of the GreenWorks Brushless Motor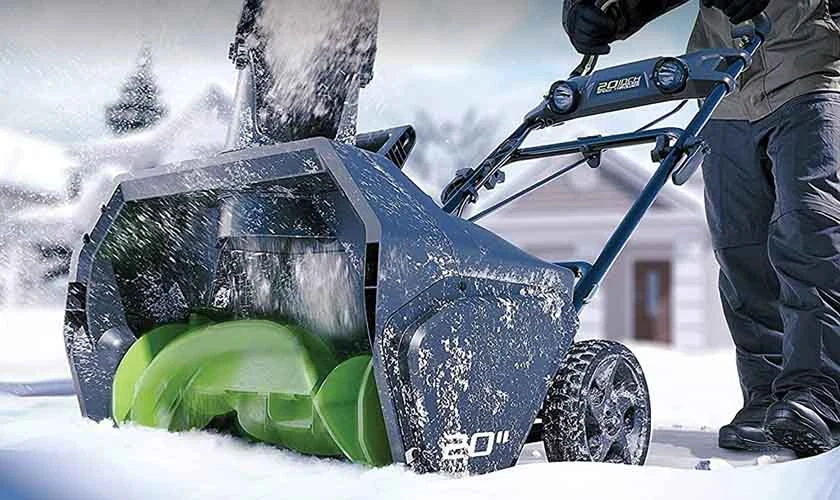 Brushless motors are superior to traditional brushless models. The 80-volt snow blower has this newer technology.
From Wikipedia:
Brushless motors offer several advantages over brushed DC motors, including high torque to weight ratio, more torque per watt (increased efficiency), increased reliability, reduced noise, longer lifetime (no brush and commutator erosion), elimination of ionizing sparks from the commutator, an overall reduction of electromagnetic interference (EMI). With no windings on the rotor, they are not subjected to centrifugal forces, and because the housing supports the windings, they can be cooled by conduction, requiring no airflow inside the motor for cooling. This, in turn, means that the motor's internals can be entirely enclosed and protected from dirt or other foreign matter.
Learn more about brushless motors by watching this
.
Brushless motors last longer, produce less heat, are more efficient, and use less battery power, therefore increasing your overall battery life and efficiency."
You can learn more about brushless waters through this
.
Generally, brushless motors have a durable design that uses less power and does not generate a lot of heat, boosting battery life.
Here is a video of the GreenWorks 80V snow blower. However, if you need a powerful product for handling heavy-duty jobs, we also have you covered. Here is a full feature of the Best Two-Stage Snow Blowers for blowing large batches of snow like a professional,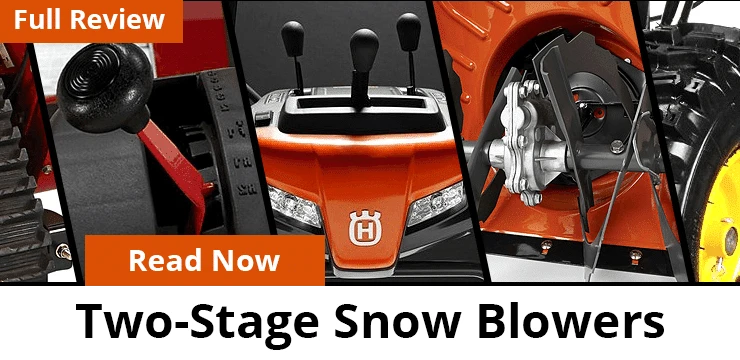 Extra Videos | GreenWorks 80V Snow Blower
Companies that put money and time into their products believe in their product and their technology as well. GreenWorks is such a company. I am a massive fan of GreenWorks and the plethora of tools in its arsenal because they are innovative, feature-rich, and cost-effective.
Even though I research and review many products often, Greenworks is one of my preferred brands because of their reputation and respect for their products and customers. We have shared a plethora of videos that will help you make an informed buying decision offline or online. You will see the product in action and decide whether it will be an ideal fit for you. For those planning to order the Greenworks snow blower, this product is worth every penny.
Winter is coming, so you should start planning. If you need a powerful and convenient product, check out these beneficial videos.
Walk Around | GreenWorks 80V Snow Blower
Watch it Throw Snow at a Long Distance
Operating Instructions | GreenWorks 80V Snow Blower
Clear foreign bodies from the area of operation to prevent the impeller from throwing them around.
You should inspect the area thoroughly since some objects might be out of view. Whenever your blower's impeller picks a foreign object while in use, stop the blower, remove its battery, clear the obstruction, and evaluate the unit for damage. If it has damage, replace or repair the damaged area/part before restarting and using the snow blower again.
Make sure that bystanders, pets, and children are not around this snow blower while it is in use. Because the snow blower makes a lot of noise whenever it starts, you might not realize that somebody is in the vicinity or approaching your location while it is in use.
To transport or move the snow thrower, use the snow blower's side-mounted wheels as a pivot point. To move, tilt the blower onto the pivot point to move it backward and forward.
Your cleaning path should start from the outside of the snow blower. Then, throw snow front and back to clear your driveway or lawn. To clear snow from the other direction, pivot the snow thrower on its wheels, making sure it overlaps the clearing path.
You should overlap clearing paths to maximize coverage.
Moreover, always check the direction of the wind. Use the snow thrower in the direction of the wind to stop snow from blowing in your face or the path you have already cleared.
Do not use excessive force while using this snow blower. For the best results, push it gently and at a consistent speed to throw large batches of snow at a constant rate.
Some components of the snow thrower might freeze under extreme temperatures. Whenever this happens, do not use this product. If it happens when the product is in use, stop the snow thrower immediately, remove its battery, and check the frozen parts. Make sure that all parts have thawed before restarting and using the snow thrower. Do not force frozen controls to work at all costs.
When working on grounds with gravel, pebbles, or unpaved surfaces, push down the handle to raise the scraper and prevent it from throwing loose gravel and pebbles while it is in use.
Cold Weather Operation: Lithium-ion batteries work well in most temperatures ranging from -17 degrees to 45 degrees Celsius. NOTE: Do not charge and or store the battery outside. For the best experience, store and charge the battery indoors before using the snow thrower.
If the snow thrower fails to start, you should remove its battery. Place it on a charger for 10 minutes and let it warm up. Next, remove it from a charger, install it in the snow thrower, and restart the machine. Whenever the battery is too cold, startup becomes a significant issue. To avoid this problem, ensure that the battery is always warm by storing it in a dry and cool place. Moreover, store it indoors in a safe area and charge for 10 minutes before using it.
Snow Blower Safety Tips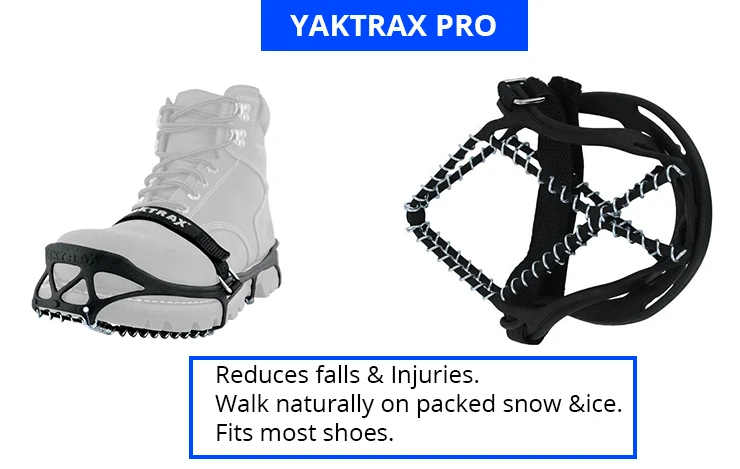 Walk, do not run while using this device.
Before turning the snow blower on, verify that it is not in contact with anything.
Stay far from the discharge chute and impeller openings of this snow blower at all times. Moreover, keep your hands, face, and feet away from the moving, concealed, and rotating parts.
Be attentive whenever you are operating this snow thrower, and check for holes and other hidden hazards or traffic on the terrain whenever you are operating this snow blower.
Do not operate this snow thrower on crushed rock, gravel, or any other loose surface. If you must use it on gravel/crushed rock drives, roads, or walkways, take caution to prevent injuries.
Navigate it up and down slopes whenever you are clearing snow. Do not go across the slope. Furthermore, changing direction with caution and avoid using the product on steep slopes.
Do not use the snow thrower on inclined and slippery surfaces such as the roof.
Whenever safety devices such as plates, guards, and other safety devices, do not attempt to use this snow blower.
Do not use this snow thrower near automobiles, glass enclosures, trucks, drop-offs, window wells, etc., without properly adjusting the discharge chute's angle. In addition, keep pets and kids away from the working area to prevent injuries.
Do not overload or force the snow thrower to work. The snow thrower will perform safely and better if you use it at a constant rate recommended by the manufacturer.
While cleaning slippery surfaces, avoid using the device at high speed as it can slip and injure you. Moreover, exercise caution while backing up by checking your surroundings.
Do not position the discharge chute of the snow blower towards anyone or anything. Moreover, please do not allow anyone to walk or sit in front of it while it is in use.
Always wear goggles or safety glasses that meet ANSI Z87.1 standards whenever you are using this snow blower.
Use the snow thrower during the day or with ambient lighting to prevent injuries. If you must use it at night, use a LED light and pay attention to your surroundings.
To avoid accidental start-ups, keep the snow blower in the starting position whenever you turn it on. Moreover, the snow blower and operator should maintain a stable position during start-up. We have covered this under Starting/Stopping instructions.
Use the snow thrower to clear snow only.
Do not overreach. Always keep proper a proper balance and footing while using it.
Use both hands whenever you are using this snow thrower. Always maintain a firm grip on its handles to maximize safety.
If the impeller fails to rotate freely because of ice buildup, thaw the snow thrower thoroughly before use.
Clean debris from the impeller.