Should you purchase a propane ice auger? Have you been planning to order an electric or gas auger for an upcoming trip? We have compared the features, strengths, and weaknesses of the three auger types to help you to order the best.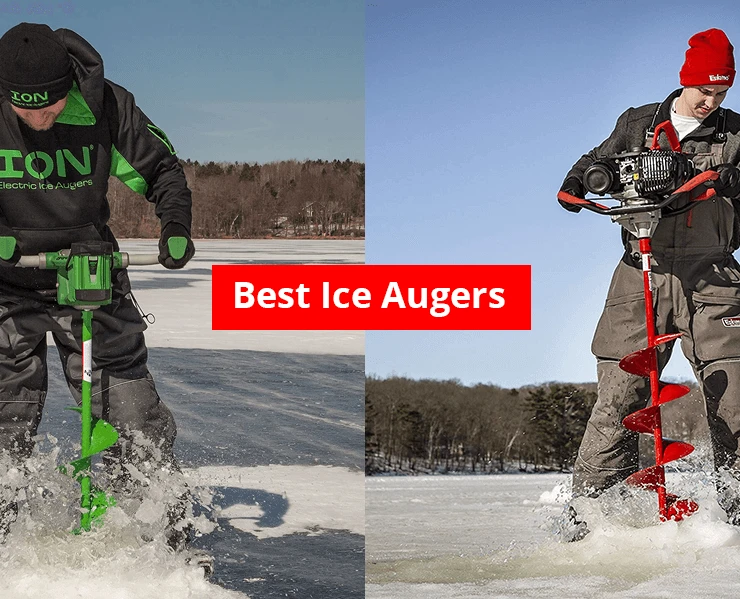 People tout medication as a miracle cure for most psychological and physical issues. As an ice angler, I bet you have been doing this for many years now. While relaxing/chilling on a frozen lake or ice in an ice fishing shelter you must have a calm piece of mind to thrive. In this sport, you should relax your mind and body to overcome the frustration and stress that plagues thousands of people who spend a lot of time on ice. The type of auger you use is also critical so keep this in mind.
Is a Propane Ice Auger for You?
I do not know which ice auger you prefer or that you are using now. However, if you are serious about ice fishing, you should consider upgrading your tools to the best (if you do not already own one) before the start of the season. The best ice augers improve every day. Review each, weigh their pros and cons, and buy a product that will boost your performance on the ice. To help you to make the correct decision, we have evaluated the desirable features of propane, gas, and electric augers in detail. We have also evaluated their features to help you pick the best.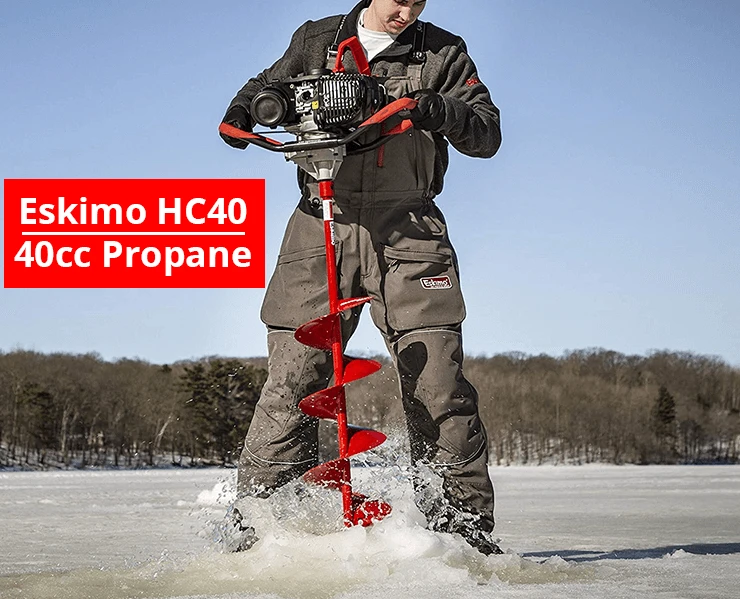 Controlling the Noise
Cutting through ice can be a loud and frustrating affair irrespective of the type of ice auger in your possession. The best four-stroke gas-powered ice augers, for instance, have grown in popularity over the years, but are among the loudest in this niche. The best two-stroke gas-powered augers are even worse. Therefore, if you are working on thin ice and do not want to scare fish, you will have better results with a battery-powered or propane ice auger. Electric models are even quieter and therefore safer to use in ice shelters if the ice you are on is not very thick.
A Clean Way to Cut Ice
While ice fishing from a shelter, avoid using a gas-powered ice auger as the toxic fumes they release could affect your health. Unless you want to choke on gas or smoke, consider buying propane or electric ice auger instead, as they are cleaner and safer. Moreover, the ice shelter will provide enough warmth to keep these tools working seamlessly at sub-zero temperatures. You will not experience a dip in their performance. Have a backup plan for keeping them warm. Blankets are ideal.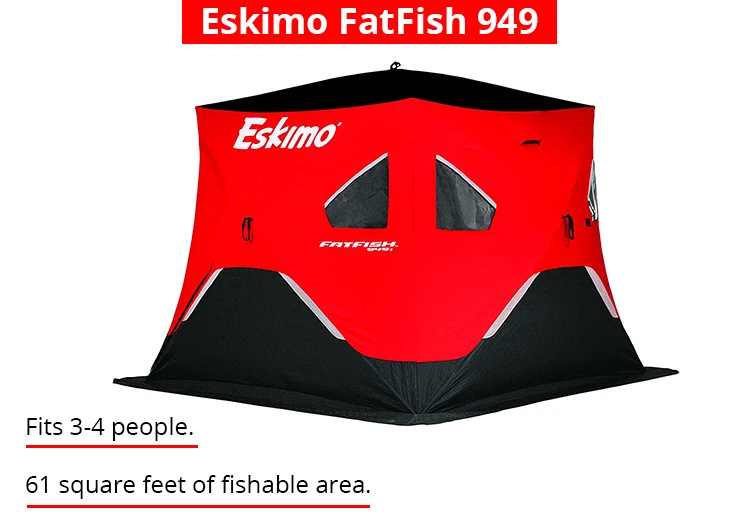 Digging the Deepest Holes
This is one of the areas that the best gas augers excel. Propane augers are equally productive, but not comparable to gas augers. To cut deep holes into thick ice, use either of these augers instead of battery-powered models. While gas augers are the most powerful of the two, propane augers are more versatile and therefore suitable for working in most environments. Battery-powered augers lack enough "juice." While using one, it will take you hours to penetrate thick ice, which is frustrating.
The Most Reliable Ice Auger
Of the three ice auger types, electric ice augers are the most reliable for two major reasons. Firstly, unlike battery-powered models that run out of juice in minutes, you will never worry about an electric one running out of charge. Moreover, while powerful in the beginning, battery-powered augers fade over time, make it a tough task to bore through thick sheets of ice. Gas-powered ice augers are powerful but less reliable than electric and propane augers. The startup is a chore, especially in cold weather. You also change filters and deal with rancid smoke throughout the day.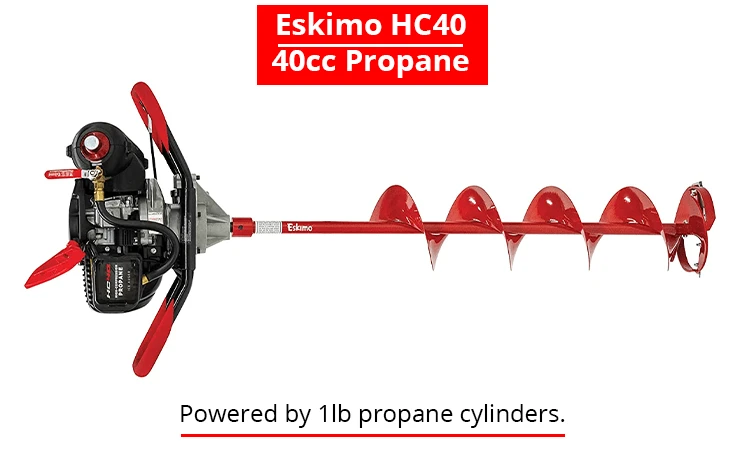 Hauling Your Ice Auger Around
The electric ice auger is not as reliable as gas and propane-powered models, which frustrates some people. However, when it comes to portability, it is one of the best, making it suitable for traveling. Therefore, if you cannot carry a gas ice auger around, this is one of the best alternatives. They are smaller and lighter than some of the best gas ice augers in the market and are relatively easier to use as well. Gas ice augers are heavy, while propane augers are in the middle in terms of weight.
Lasting for The Longest Time
Anything that uses a battery might not last for years. The cells break down, while the electrical systems are more prone to developing faults while in use or storage. The multiple moving parts in such products make them more delicate than gas and propane augers, which have robust engines. This does not mean that you handle them poorly because nothing (even good tools) do not last forever. With proper maintenance, expect the best results from gas/propane-powered ice augers.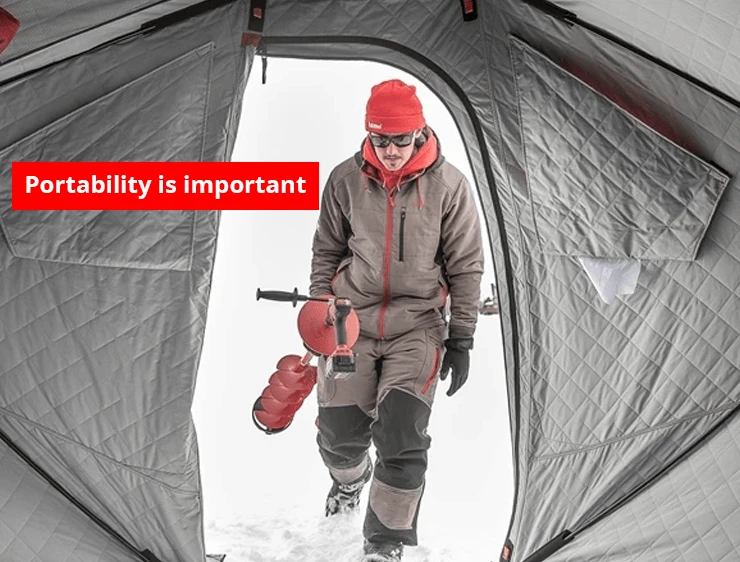 Getting Off to a Quick Start
This depends on the number of holes that you are planning to drill and how deep you must go into the ice. With an electric ice auger, for instance, you will never worry about false starts or unexpected shutdowns as is the case with gas or propane ice augers. Therefore, before you get your gas and propane-powered auger up and running, you would have dug one or two holes with an electric ice auger. However, when you are cutting thick ice, you might not maintain the lead for long as gas and propane-powered augers, although harder to start, have considerably more power. When the ice is thin in the middle of winter, battery-powered augers are also good.
The Extras You Will Need
The best battery-powered augers come ready to use, but you might have to carry an extra battery to your fishing site for security. However, if you own a gas auger, you will need gas to operate it on ice and fiddle around with filters and oil to get it to work well. The latter are not routine, though. You only change them when the levels are low or when your machine is struggling to cut ice. With a propane auger, you need a compatible propane tank and any other add-ons you use.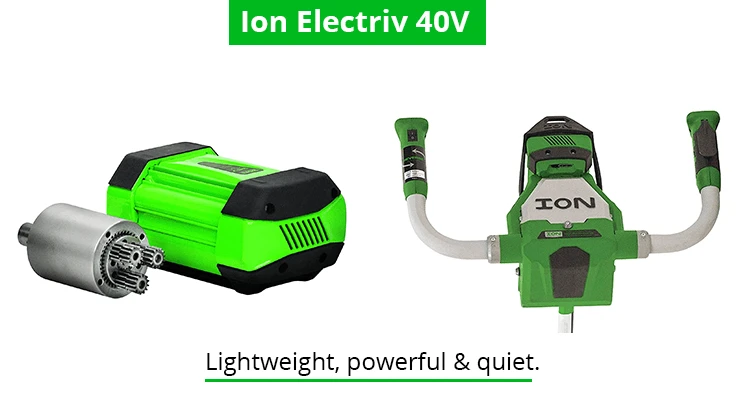 Physical Effort Involved in Using One
Working on ice is relatively easy using heavy, hydraulic ice borers found online. For gas and propane-powered models, you fire them up to start cutting or boring, which is often easier said than done. Firing an ice auger in the cold is frustrating as it is not only uncomfortable but also requires a lot of effort to do correctly. The strain is more if the gas/propane-powered auger does not start the first/second time.
The Dimensions Of Your Hole
Fishing in a large hose is an easy and seamless process irrespective of the type of ice auger in your possession. For the best experience, set up a hole measuring around 6-10 inches wide to have a fun experience. The larger the hole the better the results you should expect. Gas and propane-powered ice augers are the best for cutting large diameter homes as they are fast and powerful. While you can get this done with an electric ice auger, it might take time and a bit of effort to succeed.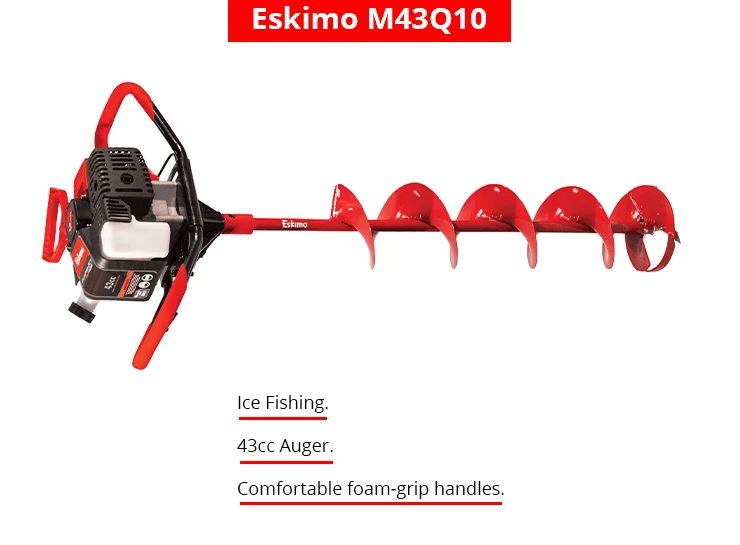 Ice Augers We Recommend
We have highlighted some of the benefits of owning an ice auger if you enjoy fishing on the ice. We have also reviewed the benefits of buying the best products for the job to save time and energy on the ice. Now, we are going to evaluate the features of some of the best ice augers available online to make shopping easier.
High Compression ice auger.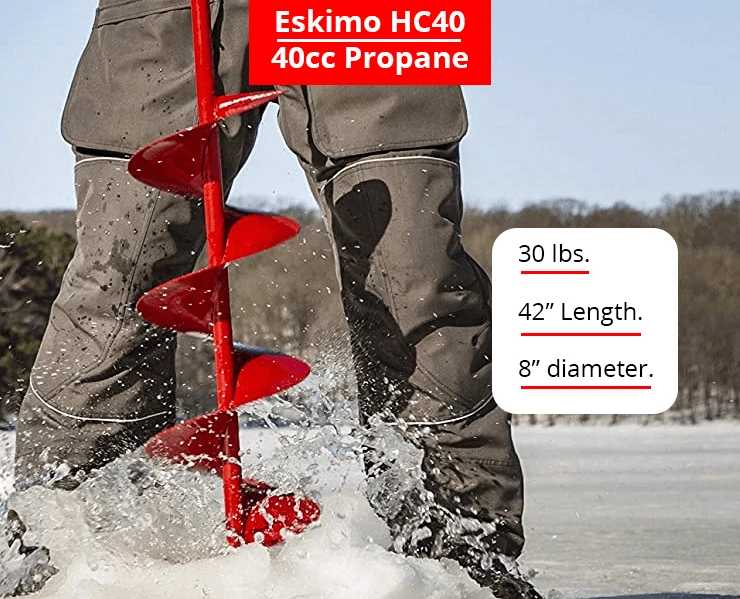 Available in 8-inch or 10-inch models.
Features:
Light yet powerful 40cc (high compression) 4-stroke engine.
Sealed metal ball-bearing transmission.
Ever sharp Quantum blades..
Auto-prime fuel system for consistent starts.
42-inch auger length.
Quick-release bottle holder for up to 1 lb. propane cylinder.
8-0-inch diameter ice auger.
You flip a switch to start drilling.
Overview | 40cc Propane Ice Auger
This propane ice auger weighs just 30 pounds. However, you receive an extremely powerful device that can cut through anything. It has interchangeable blades (8-inch and 10-inch) for drilling thin and thick sheets of ice with little effort. Also, Eskimo's auger gets a high-octane rating from propane. Therefore, it is better than brands that have gasoline engines converted to use propane as a source of fuel.
The auger measures 42-inches long. Therefore, if you fish on thick ice in a shanty with a floor, you will have an easy time drilling into the thick ice. Its 4-cycle propane-powered system burns cleanly, making it a top choice for people who fish in shelters. Finally, its powerful system outmatches battery powered ice augers.
Eskimo deliver quality products with top of the range components. They build the engines from the ground up using quality materials (ball bearings made from 100% metal) that do not come loose nor break down after weeks or months of heavy use. The bottle holder is also secure and fitted with a quick-release system that eases how you install and swap propane cans. The toolless system takes a few seconds.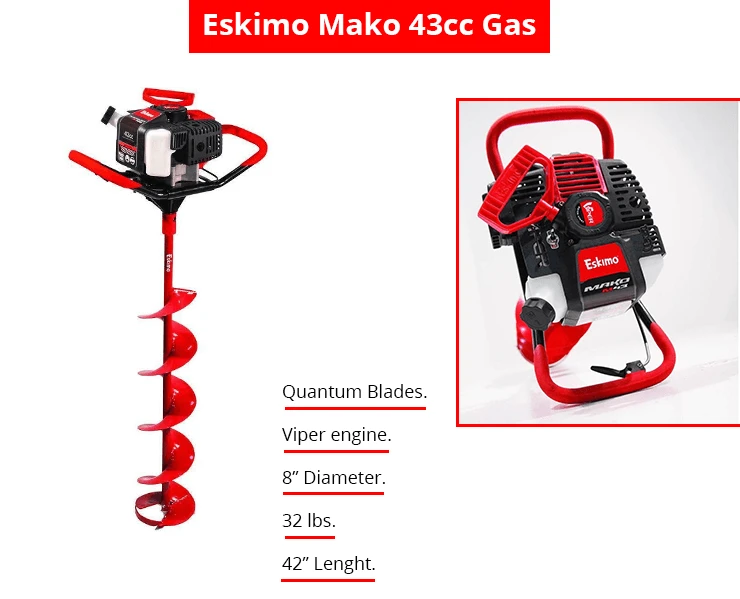 Features:
Robust 43cc Viper engine.
Primer button for quick starting.
Quantum auger has sharp Quantum blades and a unique center ring.
Precision transmission ensures seamless gearing: This is the only ice auger with sealed ball bearings and not bushings.
The engine comes cold-weather tested and approved safe. It also has an easy to use ON/OFF toggle switch and a protective muffler guard.
Mitten-grip recoil keeps the hands warm as you start the engine. The see-through glass enables you to track the level of fuel in real-time.
Tubular wide-wing handlebars made from steel.
Foam padded handlebars disperse vibrations, while a fingertip throttle trigger offers precise power control.
Blade protector.
Comes in 8-inch and 10-inch models.
Download or View the MANUAL of the Mako 43cc ice auger.
Overview | Mako 43cc Ice Auger
Mako 43cc is a robust, gas-powered ice auger with comfortable handlebars (foam padded) and a portable and easy-to-use design. It cuts through ice like butter and has a responsive throttle control (fingertip) that you can use without wearing gloves. As the Eskimo auger that we talked about earlier, you can get 8-inch or 10-inch models online that can drill holes of different sizes of different ice thickness.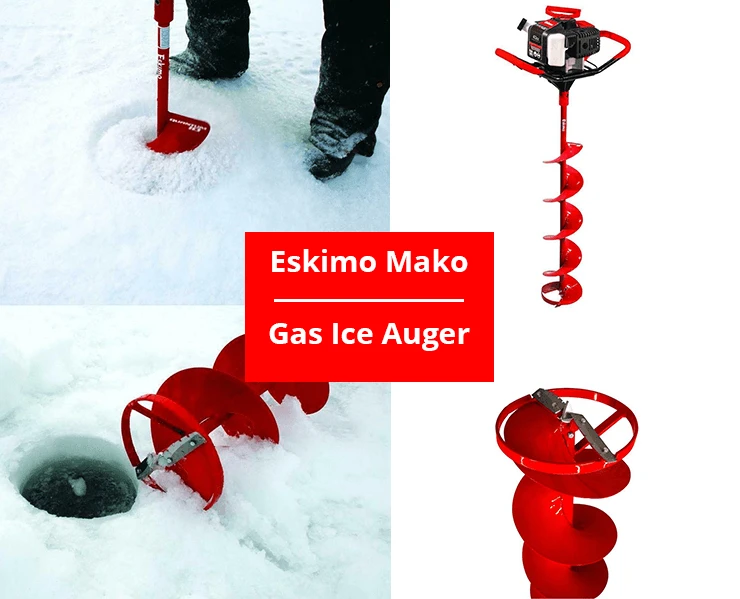 This product has a responsive primer button that powers it quicker for faster start-up. Therefore, even though gas-powered, you will never struggle to start this ice auger, unlike some comparable brands. In terms of length, it is like the propane ice auger but is slightly heavier at around 32 pounds. Moreover, while the Quantum blades of Eskimo have attracted praise because of their sharpness and longevity, raised, they tend to hold dirty ice, which limits their efficacy over time.
Specs:
Engine RPM: 9000
Gear Ratio: 30:1
Transmission: All Ball Bearing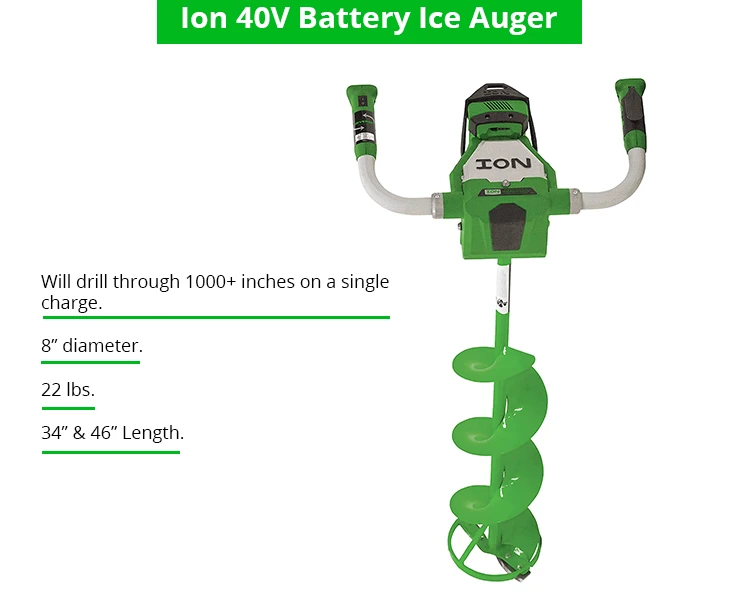 Has a 34-inch auger that you can extend to 46-inches using the included 12-inch extension.
Features:
All-metal planetary gear transmission with planetary gears.
The over-sized ergonomic trigger is easy to engage while wearing mitts and gloves. It has an electric momentary quick stop brake and a dual trigger safety system.
Compact all-metal planetary gear transmission and aluminum handlebars are light and easy to use. Overall, the product is 40% lighter than gas augers.
Reverse gear for reversing its cutting direction to flush slush quickly down the hole. You do not have to scoop ice manually, saving you time and effort.
Brushless electric motor.
The yoke handle is robust aluminum.
Electric quick stop brake (momentary).
View the in-depth Ion Ice Auger Brochure/Instructions.
Overview | Ion Electric Ice Auger
The first thing that stands out on this electric ice auger its ergonomic handlebars, which are comfortable and easy to use. They mimic traditional bicycle handlebars, which most people can use outdoors effortlessly. This is important because you can use it for hours without irritation or feeling tired. The robust 40V battery in this ice auger is also one of a kind. At full charge, you can cut up to1000 inches of ice before recharge it. Recharging the ice auger takes a short time, which is also ideal.
The auger itself is 34-inches long and capable of cutting through hard ice, and this is because it's been manufactured with durable steel blades that won't snap. The Ion auger has its own patented cutting system with trademarked Straight-Through blades and a Spot-On center ring to help make the drilling process easier. No more worrying about anything jamming up as you attempt to break through the ice.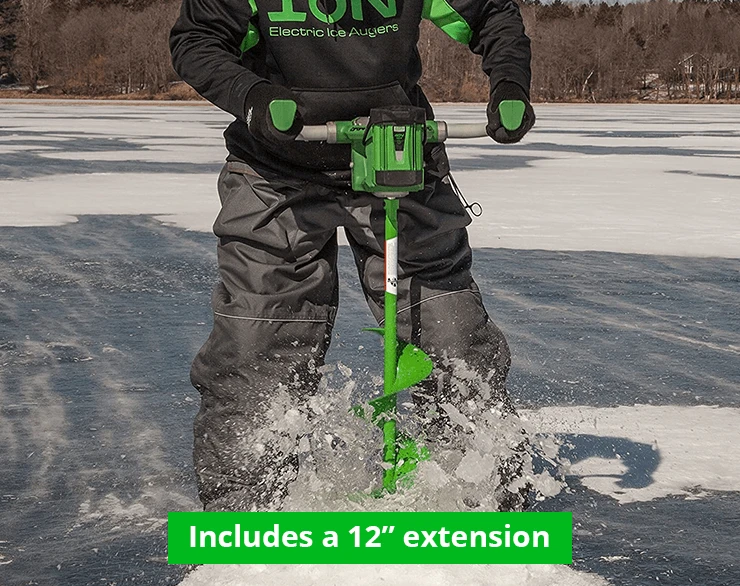 You will love the reverse button on this particular 8-inch model, as it enables you to clear slush from the hole as it digs. All you have to do is position the auger below the icy hole and hold the reverse button for 20 seconds to flush the hole clean. The buttons are ergonomic and relatively easy to use while wearing gloves.
…or use A Manual Hand Auger
To be honest, you should consider buying propane, gas, or electric ice auger if you want to succeed in ice fishing. Even though each model has its share of pros and cons, they are the best for the job whether you are a professional or hobbyist. If you do not fish regularly or fish in areas with thin ice, consider buying a manual hand auger. You will exert more effort for the auger to work but it always delivers.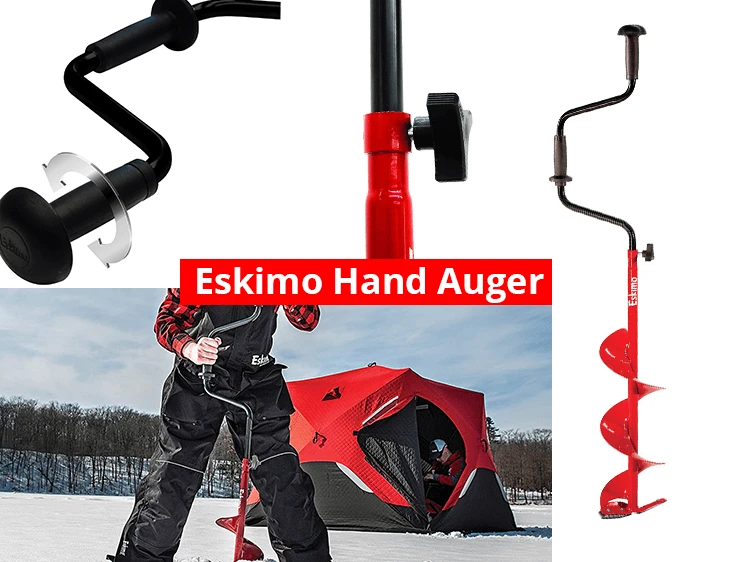 If you enjoy ice fishing, always have a backup manual ice auger in hand to make the experience seamless and fun. They are not as expensive as some people think and have fewer moving parts, making them less susceptible to breaking down. Thus, a new one will come in handy if your main ice auger fails. Evaluate the available options in your preferred store and order a model you will enjoy using.