When you are in the renovation business, or even in the manufacturing business, stairs can be a big enemy. It takes a lot of time and strength to carry heavy loads up and down the stairs. However, the work becomes much easier with a stair dolly! Luckily, these products come in various sizes for various needs.
So, you can find one that suits your small, once-in-a-while needs, or someone else who unloads heavy boxes can find a dolly for their regular use.
Top Dolly for Stairs by Editors
Top 12 Best Stair Climber Dolly Reviews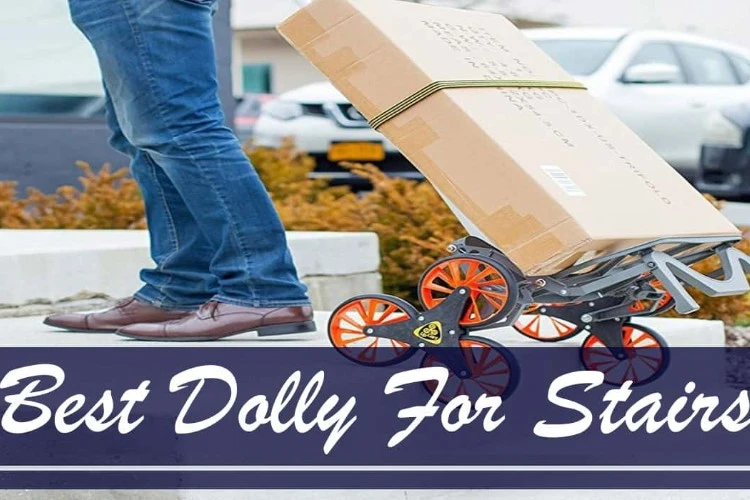 We understand that you might know how frequently you will use this item but might be confused as to which model will suit that need. Hence, we have gathered a list for your convenience.
1. Harper Trucks Glass Filled Nylon Convertible Dolly Review
The purpose of the dolly is to make carrying loads easier. But if the product itself is heavy, the user derives no benefit and has to carry double the load. Thankfully, the Harper Truck products are as light as they can get.
It has an exclusive nylon plastic frame, which makes this dolly 30% lighter than the common products. But at the same time, this item can still carry 600 to 700 lbs easily. It also features heavy-duty pneumatic wheels, which are 10 inches.
Additionally, the wheels swivel as well to let users maneuver up the stairs comfortably. The handle design is also very convenient.
Highlighted Feature
10-inch pneumatic tires
Cam carry up to 700 lbs
30% lighter than iron dolly's
Ergonomic handle

2. Harper Trucks Convertible Hand Truck and Dolly Review
If you liked the previous stair climbing dolly design, but do not have such heavy products to carry, then we might have another option for you. This product is another model just like the same, but it can carry up to 400 lbs and comes in a more affordable price tag.
So, you get the benefits at a cheaper cost. Moreover, it also has a convertible hand truck and dolly design and comes with swiveling 8-inch wheels. These pneumatic wheels can take the bumps of any stair with ease.
It is also lightweight and has a plastic nylon frame that keeps the stair climbing hand cart corrosion-free.
Highlighted Features
Lightweight plastic nylon frame
Sustains 400 lbs load
Features 8-inch pneumatic wheels
Convertible design

3. dbest Products Stair Climber Trolley Dolly Review
Not only is this model an excellent dolly, but it also acts as a storage unit. It comes with a fine quality bag that has multiple pockets, 7 to be exact for storage. So users can carry it for heavy grocery shopping as well.
Interestingly, this cart folds as well. Thus you can stow it in your car while traveling as well. It can carry 110 lbs of weight, which is why it is much more suitable for personal use.
It also has a unique tire situation, and each side has three tires. Hence it moves up and down the stairs easily. As a result, this model is the best moving dolly for stairs.
Highlighted Features
Suitable for personal use
Offers versatile usage
Has unique 6-wheel design
Has seven storage pockets

4. dbest Products Stair Climber Bigger Trolley Dolly Review
A bigger version of the previous product is this model, and it is also from the same brand dbest. It is sturdier and can carry 150 lbs, but the dolly itself is not heavy. In fact, it is quite convenient as it also folds.
So, it will be perfect for any condo house or apartment building. Moreover, it has eight pockets on the black storage bag. Consequently, users can take this trolley to shop if they have a big checklist.
The collapsible car is also very user-friendly with its curved handle, which is easy to hold. Plus, this model also has a 6-wheel design for a smooth descent down the stairs.
Highlighted Features
It has eight different pockets for storage
Collapsible design
Can carry 150 lbs
Easy to move

5. dbest Products Bigger Mighty Max Personal Dolly Review
Often, a good quality dolly cannot become the best stair climbing hand truck because of the wheels. As you know, these trolleys have to carry a hefty load through different terrains and stairs.
So, the wheels need to be top-notch, and this model has sturdy, oversized wheels perfect for any terrain. This item might look dainty, but it has strong joints and can easily lug over 220 lbs while weighing only 4 lbs.
Consequently, you will have a jolly time moving this thing around. Finally, it has soft cushioning surrounding the handle as well.
Highlighted Features
An extremely lightweight and simple model
It has a comfortable handle
Oversized wheels work on most terrains
Can pick up up to 220 lbs

6. dbest Products Stair Climber Mighty Max Persona Dolly Review
Stair climbing appliance dolly can be useful, and it can be fun. That is what our next product represents. Unlike regular hand carts, this one comes in a bright red color, perfect for personal use.
Moreover, it has the right amount of weight capacity, about 150 lbs, and itself weighs about 5 lbs. Hence, users will be able to carry it with ease. They can also store it comfortably as the model is collapsible.
Besides that, it comes with ergonomic cushion handles and a unique 6-wheel design that will ensure that people have an easy time carrying a heavy load.
Highlighted Features
It comes in a bright, fun red color
Collapsible model
Weighs only 5 lbs and carries 150 lbs
Features 6 wheels

7. dbest Bigger Mighty Max Hand Truck Dolly Review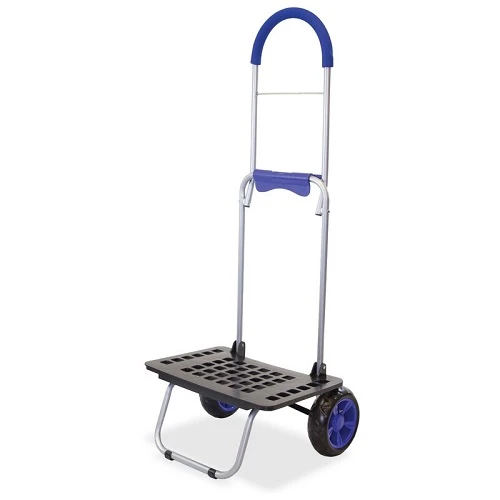 This item might not look the part, but it is certainly a heavy duty stair climbing cart. But part of its comfort comes from the small size, though. The item is only 4 lbs but carries 220 lbs at least.
Hence, you will not have to carry much of the dolly's weight. Besides that, it also has sturdy and beefy tires to aid in smooth movement, whether it is a bumpy road or stairs.
Finally, one of its best parts is the foldable feature that will allow users to store it neatly when not in use.
Highlighted Features
It does not require much strength to move
Can easily move 220 lbs load
Comes with strong and sturdy wheels
Easy to store
8. Mecete Enhanced Stair Climbing Cart Review
A product that is certainly suitable for the professionals in all stair dolly reviews is this model. The cart has immense strength and should easily tolerate a 460 lbs load. However, we do suggest that at least three people should be handling the cart while carrying such a load.
Besides that, you will also get a 5.2 feet bungee cord to securely hold the items on the dolly. Moreover, the wheels also play a great role in stabilizing the cart. The rubber wheels create a strong grip, while the 3-wheel design gives better control.
The wheel design makes it easy to move up the stairs, and the frame of the dolly is quite robust as well.
Highlighted Features
Has an immense weight capacity
Comes with attachments
Can comfortably move up the stairs
Has rubber-coated wheels

9. dbest Stair Climber Trolley Dolly Review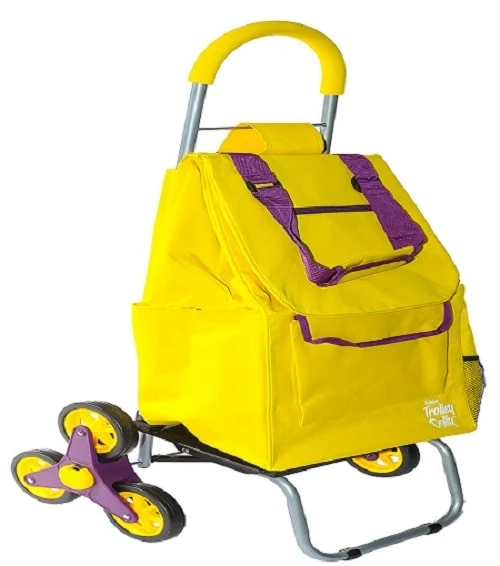 Another entry to our sturdy yet fashionable dolly is this model from best. It is so vibrant that heavy carrying can be done in style now. The product comes with pockets on all sides and gives you seven different storage spaces.
The tires are also quite unique and come with a 6-wheel design for convenient movement. Additionally, even the tires are yellow to match the bag. However, the item serves more than just looks.
Users can put 110 lbs worth of stuff on this trolley and walk with ease. The wheels make climbing the stairs a piece of cake.
Highlighted Features
Fashionable dolly with yellow and purple highlights
A sturdy and lightweight frame
Convenient wheel design
Has several pockets
10. dbest Products Stair Climber Bigger Trolley Dolly Review
Dolly's can come in handy for multiple usages other than for lifting or dragging things through the stairs. If they have storage space, you can take these trolleys to shop for heavy items such as curtains, frames, and whatnot.
One such model is this dolly that has a blue storage bag with big and small pockets. The main bag is spacious and should hold a lot of items. In total, this product can carry 150 lbs. Moreover, moving becomes easy thanks to the unique wheel system and cushioned handles.
However, the bag and additional wheels do end up increasing the weight of the product. Hence, this model is about 7 pounds.
Highlighted Features
Multiple storage pockets
Easy to move
High weight capacity
The dolly weighs 7 pounds

11. dbest Stair Climber Trolley Dolly Review
The last product that we will feature from dbest is this model with bright red wheels and a red bag. The storage bag is very handy and detachable and ever has mesh spaces on the sides for keeping items like umbrellas and water bottles.
Besides that bag, this cart is very sturdy and will leverage a load of up to 110 lbs. But the cart itself is pretty lightweight. Moreover, it also folds, so you will be able to store it with ease.
Finally, the product also has a 6-wheel design that works well with stairs. Consequently, descending from the stairs will not harm the dolly or the load that it will carry.
Highlighted Features
Can be folded and stored
Has a lightweight frame
Storage bag with mesh pockets
Moves easily on the stairs

12. Goplus Aluminum Stair Climber Hand Trucks Review
We will end our list with a product that will certainly be loved by professionals. This is a long dolly and has two different handle systems. Each of the handles has non-slipping cushions and can be adjusted based on the number of boxes you are carrying.
It also has a highly functional 6-wheel design to keep the cart perfectly balanced, even when you are carrying products weighing up to 550 lbs.
The entire frame is aluminum alloy, so it will not be very heavy. Moreover, assembling the item is simple as well. All the screws and bolts, along with the instructions, will arrive with the package,
Highlighted Features
A suitable dolly for professional use
Extremely high weight capacity
Easy to assemble
Has two adjustable non-slipping handles

Verdict
As you can see, a stair dolly can make your life easier when you have to carry heavy things frequently. However, if it were up to us, we would pick a model that is more versatile and provides extra storage features.
Resources
https://theproductreporter.com/stair-climber-dolly/
https://www.businessinsider.com/best-dolly-cart
https://alltoptenreviews.com/best-stair-climber-dollys/
Buy on Etsy
Mount-It! Stair Climber Hand Truck and Dolly, 264 Lb Capacity Heavy-Duty Trolley Cart - Walmart Link
Mecete Enhanced Stair Climbing Cart Portable Climbing Cart 460 lb Largest Capacity All - Walmart Link
Stair Climbing Cart Portable Folding Hand Truck, 155 LBS Load Capacity Aluminium Trolley - Walmart Link
Leeyoung Folding Hand Truck and Dolly,309 lb Capacity Aluminum Portable Cart with - Walmart Link
Stair Climber Trolley Portable Folding Trolley Height Adjustable Climbing Cart Rubber - Walmart Link
Stair Climbing Cart, Lightweight Portable Folding Dolly Multi-fuctional Foldable Hand - Walmart Link
SHZOND Aluminum Hand Truck Stair Climber Hand Trucks 440LBS Stair Climbing Hand Truck 60 - Walmart Link
Buy on eBay
Mount-It! Stair Climber Hand Truck and Dolly, 264 Lb Capacity Heavy-Duty Trolley Cart - eBay Link
Mecete Enhanced Stair Climbing Cart Portable Climbing Cart 460 lb Largest Capacity All - eBay Link
Stair Climbing Cart Portable Folding Hand Truck, 155 LBS Load Capacity Aluminium Trolley - eBay Link
Leeyoung Folding Hand Truck and Dolly,309 lb Capacity Aluminum Portable Cart with - eBay Link
Stair Climber Trolley Portable Folding Trolley Height Adjustable Climbing Cart Rubber - eBay Link
Stair Climbing Cart, Lightweight Portable Folding Dolly Multi-fuctional Foldable Hand - eBay Link
SHZOND Aluminum Hand Truck Stair Climber Hand Trucks 440LBS Stair Climbing Hand Truck 60 - eBay Link