Let's be honest, we all have different sleep schedules and habits. While some like to sleep with the lights on, others can only sleep when the light's off. Some people find listening to music just before bed relaxing and soothing, others see it as a distraction. Reading novels on the bed is some people's sleep ritual but for others, it's listening to audiobooks.
Whatever your sleep habit, ritual, and schedule is, one thing is constant, we all have what works for us and what doesn't.
If you are one of those unique people that love falling asleep to soothing nature sounds, you are in luck! In this guide, we would discuss alarm clocks that you can play natural sounds and noises on while still having an alarm clock to wake you up.
Top Alarm Clocks With Nature Sounds by Editors' Picks
Most alarm clocks simply come with tunes and a range of sounds to help you wake up. Some refined alarm clocks come with a digital screen and other features to help you tell time, date, and even temperature in your room. Thus, it is not so surprising to see that there are alarm clocks that let you play natural noises to help aid your sleep. Even more impressive is that these alarm clocks still function just as well as traditional alarm clocks.

However, as with anything one has to spend money on, there are a couple of things you need to consider before picking one up. Certain features are important to have on the alarm clock in other to maximize user experience, while others are just unnecessary.
In this write-up, we will discuss the best bedside alarm clocks with natural sounds that you can buy today. There will also be a buying guide section so you can know what to look for before making your final decision.
Buying Guide for

Best Alarm Clock with Natural Sounds 2022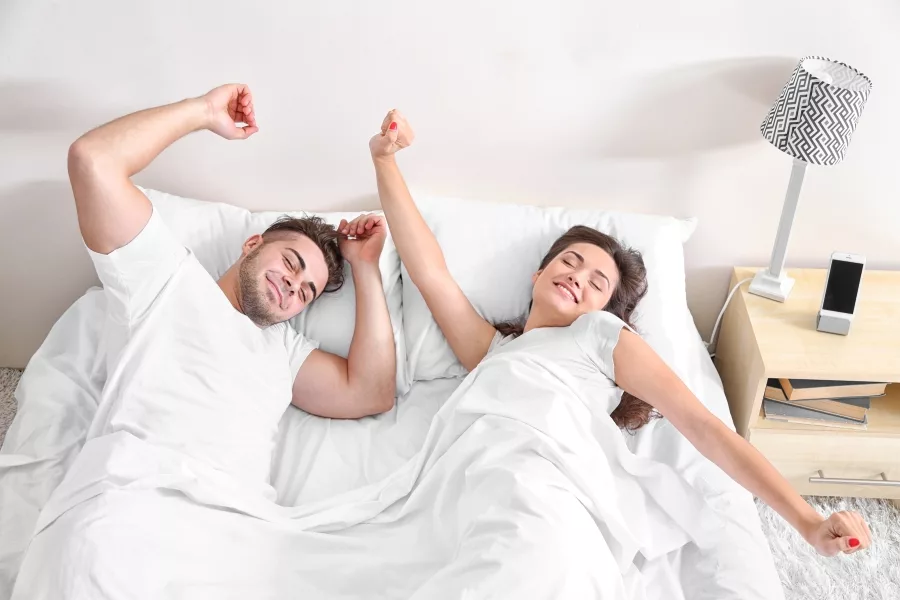 The first thing to consider when shopping for one is the type of natural noises or sounds the alarm clock makes. People react in different ways to different sounds. As a result, you don't just want to buy any type of alarm clock. You want one that can play the specific nature sounds to help you sleep or wake up.
Apart from that, you also just need to make sure the alarm clock comes with important features an alarm clock should have.
One big feature is a snooze button. That feature can be both beneficial and detrimental. Detrimental in that, when used too often, can lead to bad sleep habits. It is also beneficial though since you can always sleep in on weekends if you want.
Another feature most alarm clocks don't have is the dual scheduling system. This feature is important only if you won't be using the alarm clock alone for your sleep schedule. In other words, it is feature partners and couples often look to utilize. Basically, the feature lets you set more than one alarm at a time. With that, you and your partner or soulmate can sleep without worrying about sleeping in.
One other unique feature people seem to overlook is the ability to use a battery as a backup power source for the alarm clock during electrical or power issues. To be honest, this is a specific feature that is only handy based on how stable electricity is in your location or region. And while it does mean you get to pay extra while buying one that you can power with a battery, it also means you get a reliable alarm system in your room.
One last important though totally optional feature you might also want to look for in an alarm clock is a memory management system. This system helps you store data you already set on your alarm clock even when you unplug it or during a power outage. The implication of this is that you would not have to reset your alarm schedule every time the alarm clock powers off. Not all alarm clocks have this feature though since it is also a region-specific feature - regions with unreliable power.
That said, we have also taken the time to compile a list of the best nature sounds alarm clocks on the market right now. With any of these recommendations, you can confidently sleep knowing you will wake up to soothing nature sounds.
The Top 4 Best Nature Sounds Alarm Clocks
1. ANJANK Digital Alarm Clock (+ FM Radio) - Link
What we love about it: Temperature sensors, 7 different alarm sounds including 2 nature sounds, dual alarm system, FM radio, and dimmer options.
There are so many features to love on the ANJANK digital Alarm clock. Coupled with its affordable price, this is one of the best alarm clocks on the market.
It comes with a simple and compact design. You have the option to select between two nature sounds - Ocean waves and Birds chirping. It also allows you to select other traditional alarm clock sounds.
For those who love sleeping to the sound of a radio or music, the ANJANK digital alarm clock ticks that box too. Provided your favorite channel is on the FM frequency, this alarm clock will serve you well. It even comes with a timer which you can set when you want the music or radio to automatically turn off while you are asleep. This helps ensure your sleep is not disturbed due to the music or radio still playing on your alarm clock.
The alarm clock also has a snooze button as well as two USB ports for charging. It has a digital 24/7 clock display as well as dimmer options for you to adjust the brightness level. It also has a dual alarm system. With the dual alarm system, you can set two alarm schedules for you and your partner.
Lastly, it has sensors that help you tell the indoor temperature and comes offers battery backup support.

2. Hatch Restore Sound Machine and Alarm Clock - Link
What we love about it: The smart features and its sleek design makes it well worth every dollar. It is also a good gift idea due to its sleekness and premium feel!
This alarm clock is one of our favorite on this list and for good reason. It is a truly multifunctional alarm clock with natural sounds while also offering other cool features. Of course, it does have a market value of a little over $128 but the money is well worth the price.
For nature sounds enthusiasts, this alarm clock comes with multiple nature sounds. From rain sounds to waterfall sound to wind chimes, there is a full library to choose from! However, do note that you have to pay a premium to unlock the full list of nature sounds. This can be a bit of a bummer as the yearly subscription costs $49.99.
The subscription aside, the Hatch Restore Alarm clock is a high-tech premium alarm clock. It has a sleep meditation feature, soundscapes feature, stretching and yoga exercises features all of which are included in its premium plan.
By default, the alarm clock offers about 22 different lighting options so you can personalize it for your room. It also has a sunrise setting that wakes you up at sunrise.
It has a smart light feature that you can turn on for light reading before bed as well as a snooze button.

3. I-CODE Time to Wake Alarm Clock (Kids edition) - Link
What we love about it: For its price, it offers some pretty useful options such as night light and nature noises. It comes with a display designed to help kids understand the concept of time.
This alarm clock is specially designed for kids. It comes with a smart display that helps young kids understand when it is time to sleep and when to wake up. It comes with traditional alarm clock sounds as well as nature sounds. There is also an option to use night light - a cool lighting feature that automatically turns off after a certain fixed time.
The alarm clock lets you choose between 17 unique soothing sounds to help your kids sleep. It features an auto-off timer that will stop the sound if you do not want it to play throughout the whole night.

4. Slumber Scents Alarm Clock by HOMEDICS - Link
What we love about it: The essential oil diffuser! Besides it also comes with other important alarm clock features you'll come to love.
If you are looking for an alarm clock that also functions as a sensory decoration (diffuser) for your room, then this is for you.
This two-in-one alarm clock comes with a LED screen so you can easily tell the time. It also comes with cool nature sounds including campfire and thunder sounds. It also comes with some other features including a USB port, snooze button, dimmer, but those are not why this alarm clock is a must-buy.
The biggest selling point of this alarm clock is that it also functions as an essential oil diffuser. There is an option to set the diffuser to whatever duration you want it to work for. The diffuser works quietly and does not create a thick aroma mist. You also get to program the display glow while the diffuser is working.
It also comes with Bluetooth connectivity options if you want to listen to music.
Final Word
There you have it! The four recommendations provide performance well worth their prices. We also included a buying guide so you can decide for yourself which nature sounds alarm clock is best for you. Happing shopping!
Buy on Etsy
【2021 Newest】ANJANK Small Digital Alarm Clock Radio - FM Radio,Dual USB Charging - Walmart Link
Hatch Restore - Sound Machine, Smart Light, Personal Sleep Routine, Bedside Reading - Walmart Link
Hatch Baby Rest Sound Machine, Night Light and Time-to-Rise - Walmart Link
Time to Wake Alarm Clock for Kids, Children's Sleep Trainer, Kids Wake Up Light, Sleep - Walmart Link
HoMedics SoundSpa Slumber Scents Alarm Clock, Essential Oil Diffuser & White Noise - Walmart Link
Peakeep Non-Ticking Silent Alarm Clock, Optional 7 Wake-up Sounds with Volume Control, - Walmart Link
Buy on eBay
【2021 Newest】ANJANK Small Digital Alarm Clock Radio - FM Radio,Dual USB Charging - eBay Link
Hatch Restore - Sound Machine, Smart Light, Personal Sleep Routine, Bedside Reading - eBay Link
Hatch Baby Rest Sound Machine, Night Light and Time-to-Rise - eBay Link
Time to Wake Alarm Clock for Kids, Children's Sleep Trainer, Kids Wake Up Light, Sleep - eBay Link
HoMedics SoundSpa Slumber Scents Alarm Clock, Essential Oil Diffuser & White Noise - eBay Link
Peakeep Non-Ticking Silent Alarm Clock, Optional 7 Wake-up Sounds with Volume Control, - eBay Link