The Zodiac Baracuda G3 is an inexpensive, automated pool cleaner covering the entire length and breadth of the pool, including the steps, bottom floor, walls, pool features, and pool fixtures. You will also like how the Baracuda G3 pool cleaner is easy to operate in most pool types.
Image 1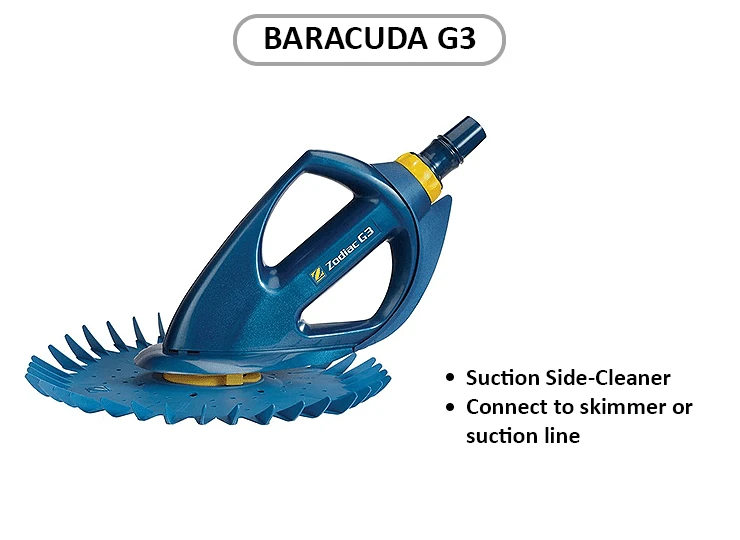 This suction-side pool cleaner uses a patented FlowKeeper Valve (an automatic variable flow control system) to regulate water pressure and maintain peak performance always even if you have a low-flow pump.
Zodiac Baracuda G3
This Baracuda G3 pool cleaner can scrub and vacuum most pool areas, including the walls, floors, steps, uneven surfaces, and lights clean. While the automated system is not as thorough as the best intelligent cleaners are, its performance is laudable if you consider its low-cost nature and its ability to clean and maintain most types of pools.
Here are some of the best pool cleaners that we have reviewed over the years. The Barracuda G3, even though considered the least advanced automatic pool cleaners in the bunch, is one of the cheapest. Therefore, to automate pool cleaning on a budget, it is the best product to use.
However, if you have a little more money to spend, you should consider the Dolphin Triton Plus or the Hayward Tigershark QC. What makes these pool cleaners unique? First, their technologically advanced designs clean most types of pools exceptionally. Moreover, the systems are automatic, meaning that you do not have to lift a finger for them to clean. Both pool cleaners are sophisticated, smart, but a bit expensive.
If you require the best robotic pool cleaner that works as well as the Dolphin Triton Plus, Barracuda G3, or Tigershark QC cleaner but does not cost a fortune, buy the Dolphin Nautilus. You will get a timeless and cost-effective automatic pool cleaner that delivers excellent results.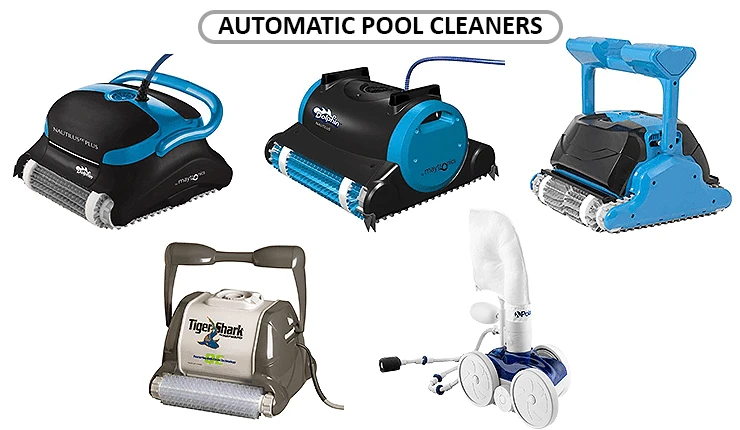 I want to reiterate that the Baracuda G3 is an excellent pool cleaner with a few issues. Its propensity to stick in pools while cleaning, for instance, is a bummer for most of its users. For some reason, the pool cleaner sticks on the drain covers of anti-vortex systems while cleaning. The best anti-vortex systems are critical in pools as they prevent entrapment and injuries. If you have an in-ground pool, you should always have one, primarily if children use the pool.
We have covered other safety considerations for Swimming Pool Safety – Guidelines for Entrapment Hazards.
Inexpensive, Competent and Durable
The Zodiac G3 is an efficient pool cleaner with a low-speed pump that cleans quietly and efficiently.
The G3 vacuums small-medium debris on the walls, floor, and steps of your pool to leave it spotless. Moreover, with each Baracuda G3 cleaner that you order, you get a scuff-resistant hose that does not damage pool surfaces and a FlowKeeper Valve regulating water flow. These maintain peak performance, even when you are using a low-speed pump.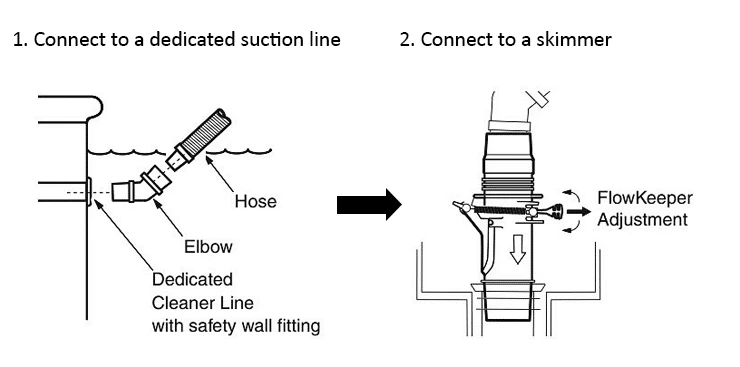 Four Key Features of the Barracuda G3:
The Long-Life Diaphragm is super reliable as only one moving part drives the machine's cleaning mechanism. It does not have wheels, gears, or flippers but is super silent and has a low maintenance design.
36-Fin Disc: The disc acts as the point of contact for the Baracuda G3. It ensures optimal adhesion/connection with the pool surface and prevents it from sticking on drain covers, lights, and other pool fittings.
Wheel Deflector: Boosts the agility of the cleaner, enable it to navigate tight corners.
Quick Release Cassette (patented) grants users easy access to the diaphragm for easier maintenance.
Optimizing Your Baracuda G3
While using the Barracuda G3, it is good practice to check the device's position and adjust its position, if needed, to maximize its performance. For the best results, make sure that it lays flat on the pool's surface before activating its system. If the base is at an angle, correct it before maximizing its suction and cleaning power.
If your pool has many steps or V corners that might be challenging to navigate, use the provided return line to push it away from steps and streamline its cleaning path. You can push it up and down to boost its stability and down force. You can also wiggle it from side to side or push/pull it up to eight feet to optimize your pool's coverage.
The hose has an adjustable weight that you can use to balance out the hose and prevent uplift while it is in use. If you balance it correctly, it creates a 45-degree angle between the bottom of the pool and the cleaner, preventing it from tipping over. Finally, if your pool is deeper than 8.5 feet, you will still benefit from this hose but will need extra weights for the hose. Part#: W83247 is one of the best. To work, position it 5 to 8 feet from your Baracuda G3 pool cleaner.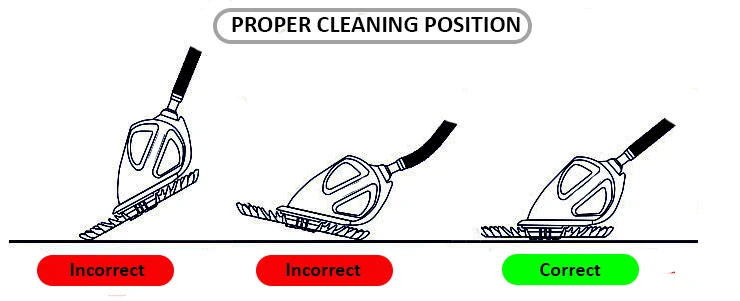 Most people can set up the Baracuda G3 cleaner in three simple steps while preparing to clean a pool. To get it to work, attach its disk, hose, and wheel deflector as instructed in the manual. Next, connect the dedicated suction and skimmer lines and power the pump. You do not need special plumbing skills or tools to achieve this or get it to work.
Baracuda G3 Documents | View or download
You can get more details about the Baracuda G3 at Amazon.
Features:
Suction-side pool cleaner technology.
Clean in-ground pools of all sizes and shapes.
Connects 1.5-inch vacuum lines or a skimmer.
Long (39 feet) feed hose.
The diaphragm has one moving part and is therefore durable.
Quiet operation.
Its 36-Fin disc adheres to most pool types/surfaces. The disk stops the cleaner from sticking on drain covers, lights, and other pool surfaces.
Wheel deflector for navigating tight corners.
Easy to access the diaphragm eases its maintenance.
Quiet, simple, and automatic pool cleaner.
Long-lasting hose.
Weighs 19.7 pounds.
Have a 1-year warranty on wear and tear and manufacturer's defects and a 2-year warranty on hose.
Watch the Baracuda G3 Cleaning:
Set up guide for the Zodiac Baracuda G3:
The Baracuda G3 has a simple design that has excelled for years due to its superior engineering. The product is super reliable, works seamlessly n most tools, and requires little maintenance to work efficiently, which most users like. A snapshot of the positive reviews shared on the internet is an indicator of its high quality. An original one will not let you down.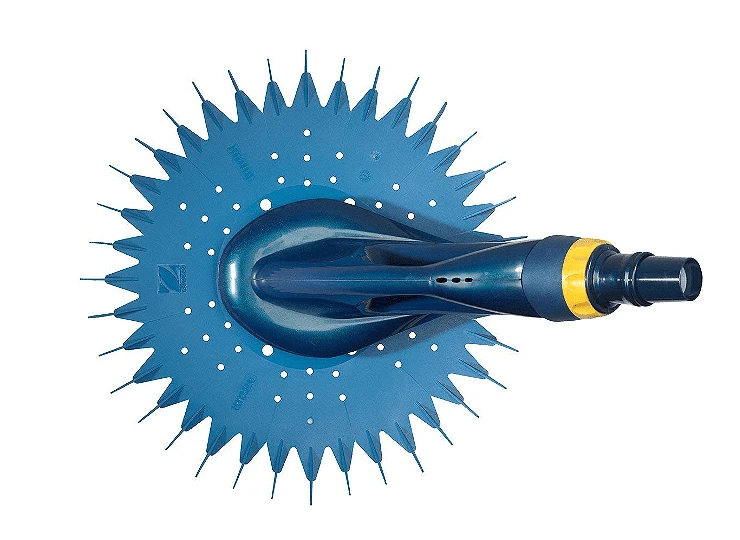 Specification of the Baracuda G3 Pool Cleaner:
Pool Type: In-Ground.
Cleaner Type: Suction-side.
Connection: 5-inch vacuum line or skimmer.
Warranty: One Year.
Hose Type: 39-foot long-lasting feed tube/hose.
Diaphragm: Long-lasting.
Pool Surface(s): gunite, vinyl, tile, and fiberglass.
Model #: W03000.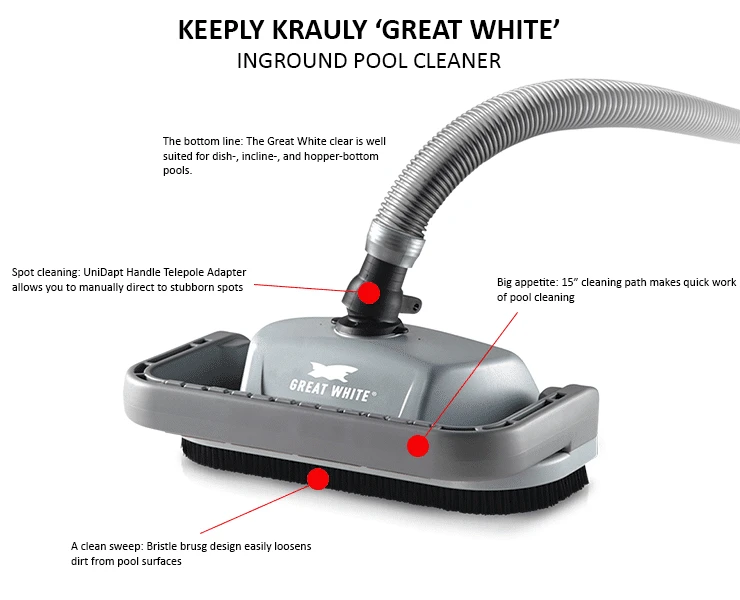 The Kreepy Krauly GW9500 Great White has a robust design that can scrub and vacuum dirt from swimming pools made from different materials. The product excels in some of the most challenging conditions and environments. Moreover, its bristle drive mechanism cleans caked dirt without scratching pools as its vacuum picks them up.
Thus, even though the product is slower than other brands, it is a step-up from the Baracuda G3, which does a hell of a job as well.
Over six hours, the pool cleaner can cover a large area of your swimming pool. However, because it lacks dirt sensors, cleaning is by trial and error. Whenever it misses a spot in your pool, do not get mad at the device – it is just how it works. It uses a random motion to cover as much area of pools as possible. While it is useful, it is not perfect.
To automate pool cleaning, you should buy an intelligent robotic cleaner that can map paths intelligently and clean fast without your intervention. The Pentair GW9500 and Barracuda G3 pool cleaners have automated systems that work well but are less sophisticated. However, with the Dolphin Triton Plus and Hayward Tigershark QC, you get sophisticated devices with powerful motors that can cover a large area and quickly clean swimming pools. Depending on the clean cycle, it takes them between 1.5 and 3 hours to clean standard in-ground swimming pools.
The Pentair GW9500 is a deep cleaning robot that works the best in deep pools. It cleans the walls and floors. It also has a long run time (6 hours) and efficiently navigates most types of in-ground pools.
The Kreepy Krauly GW9500 has everything you will need, including: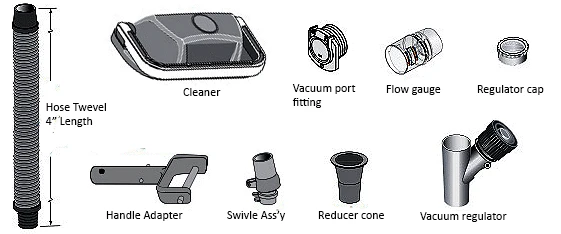 Tip: Whenever this pool cleaner picks up large debris, its system is prone to jamming. If this happens, stop the pump, retrieve the cleaner, and clean the swivel assembly or oscillator.
You can get replacement parts at the Pentair site.
Documents:
Download or view the Pentair GW9500 Great White's MANUAL.
Download or view the Kreepy Krauly GW9500 Great White's BROCHURE.
Features:
Bristle drive system dislodges debris and dirt from most areas of the pool.
Cleans gunite, vinyl, fiberglass, and other specialty pool surfaces.
Cleans efficiently and thoroughly, leaving pools spotless.
Programmed steering system navigates around obstacles and pool surfaces easily to deliver uninterrupted cleaning.
Wide cleaning path (15-inches) optimizing clean cycle.
Free Vac-Port door for installing a dedicated vacuum line.
Free flow gauge and an adjustable regulator valve for setting cleaning speed.
No assembly is required—plug-and-use design.
Zodiac Baracuda G3 Parts:
The Baracuda G3 has everything that you will need to clean a pool. In the diagram below, we have highlighted the components and accessories of this reputable product in each box. Before attempting to set up the system, check that everything is in the box. This will save you time and effort when you are ready to install and use the product. Do you need replacement parts? Use the online interactive parts catalog to find a suitable part for your Baracuda pool cleaner.
Click the images below for more details.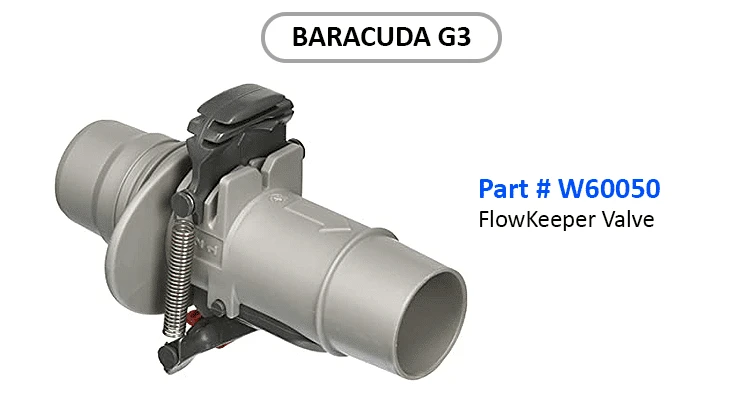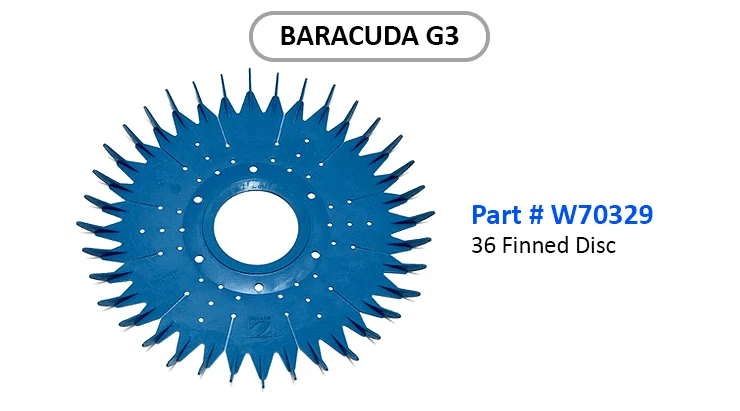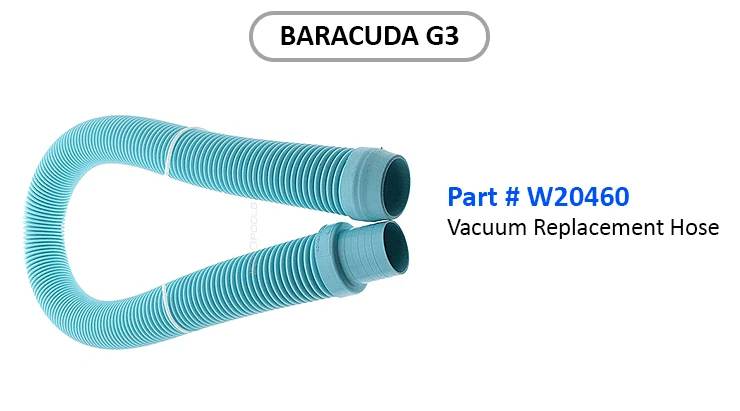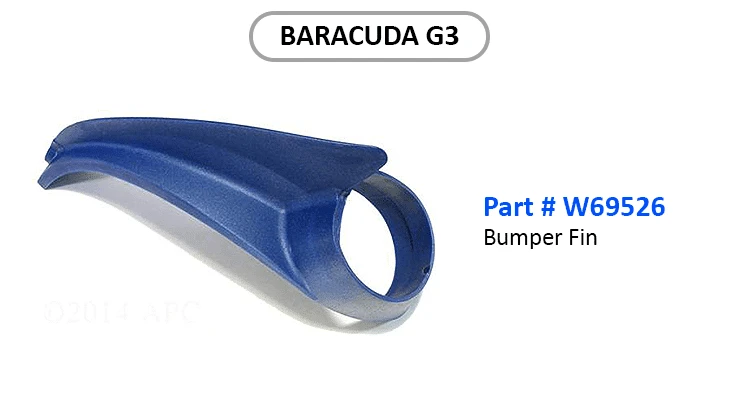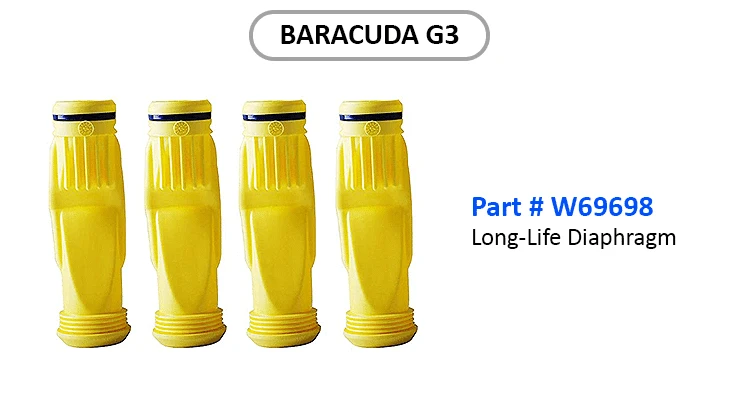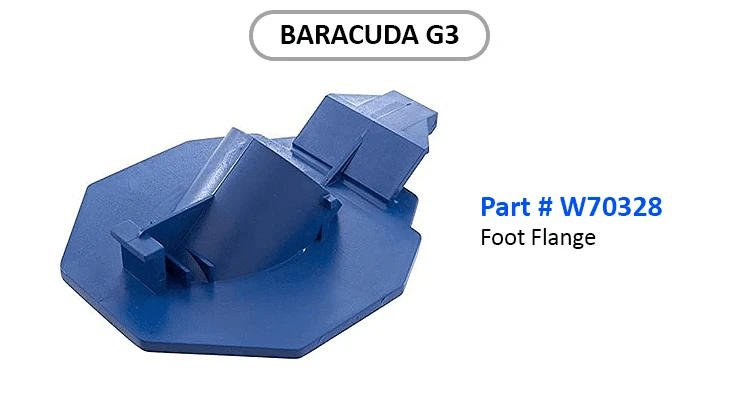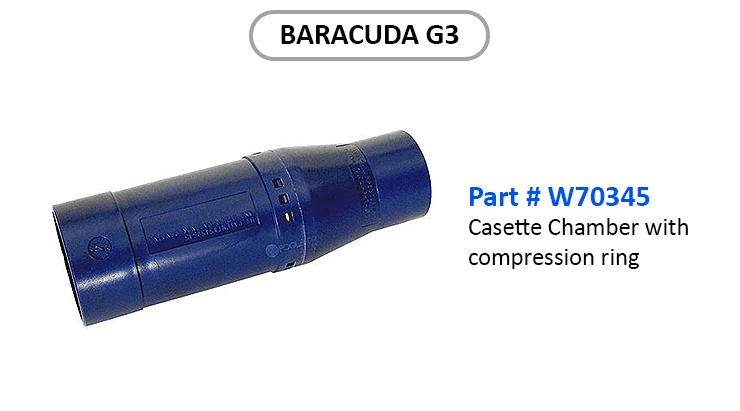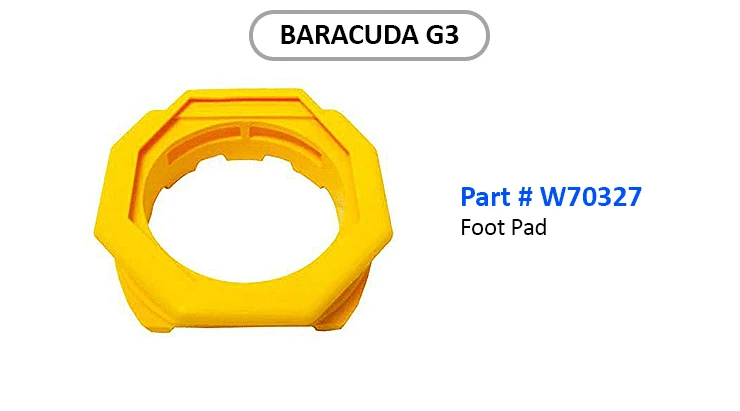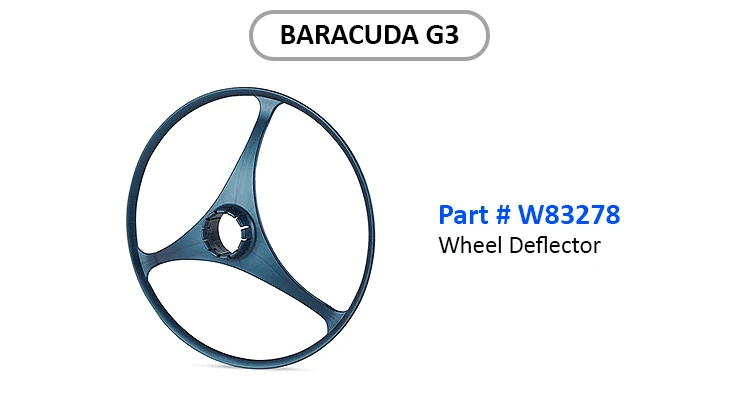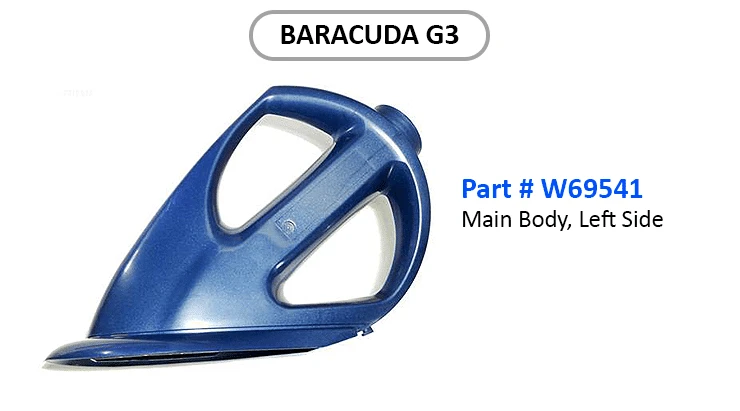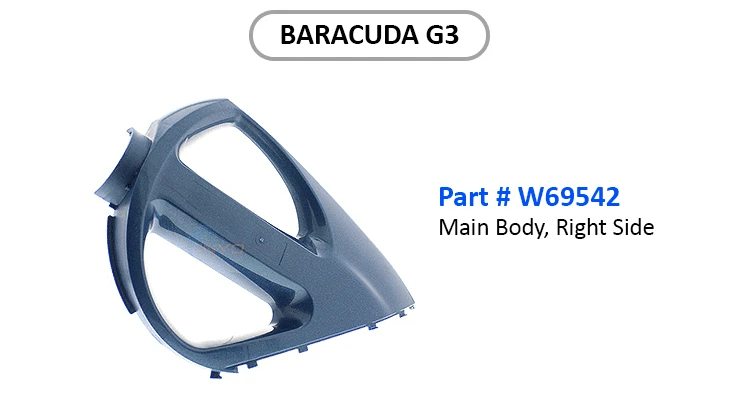 Here are other pool-related articles that you might like: