Ladders come in diverse shapes, sizes, and designs and therefore might be challenging to select the best if you are a newbie. If you are one of them, I bet you will find this ladder guide to be useful as it evaluates a range of premium ladder that you can find online. We also cover safety tips that can prevent injuries while using ladders.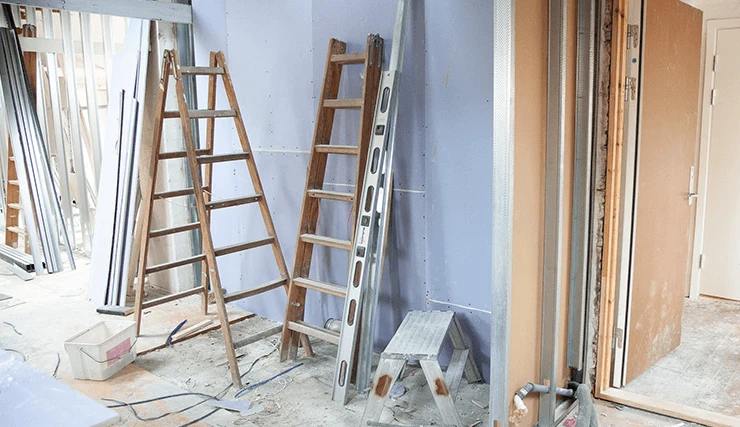 What Type of Ladder Do You Need?
Ladders come in many sizes and shapes that often confuse new or novice shoppers. We have written this article on the best ladder types to help homeowners and novices to shop like professionals. To work safely at home, make sure that you are using the best ladder at all times. In this article, we have shared important guidelines that could help you to select the best ladders and use them safely, especially if you are a novice or have little experience with ladders. If you need a ladder, do not fail to read it to the article top the end.
What is A Ladder?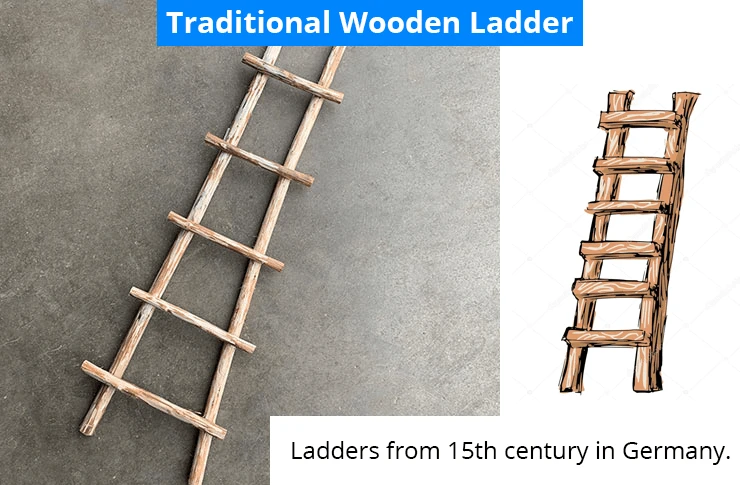 A ladder is any structure/device that you can use to climb up and down a structure. They consist of two vertical sidepieces of varying lengths — also referred to as stiles or rails – with equidistant horizontal crosspieces in the middle, also known as steps or rungs. They have been in use for over 1000 years now, with the first reference of ladder dated to the Mesolithic period with the discovery of a painting of a ladder in a cave in Valencia, Spain. The painting featured two people climbing what seemed to be a flexible and long ladder, probably made from long grass, to access a honeybee nest.
However, since the development of the crude ladder for foraging food, the design, and technology used to manufacture ladders has grown rapidly. They are now an emblem in many societies and a must-have in the home if you handle Do It Yourself projects often. However, buying any random model might not be a good decision. Like other tools that we use at home, you need to know how to choose the best model for your job. You should also know when, where, and how to use them to optimize your performance.
Therefore, without further ado, let us dive into our comprehensive review of the different ladder types for different jobs. We have grouped them by material, concept, their intended purposes, safety configuration, standard guidelines, and their variations. At the end of the article, you will have a good idea of how to choose the best.
What we will cover in this article:
Ladders types by Concept.
Ladders types by Material.
Ladders types by Intended Purpose.
International and National Manufacturing Guidelines.
Ladder Accessories.
Ladder Safety.
Video | Choosing the Right Ladder
Ladder Types by Concept
The manufacturers of ladder integrate innovative concepts into their designs to deliver products that satisfy the needs of users. We have reviewed some of the best to help you to make an informed choice.
Rigid Ladder
This the commonest ladder type that we will talk about in this article. The hard or heavy-duty materials used to make them last for long. They also come in many sizes and designs for different jobs.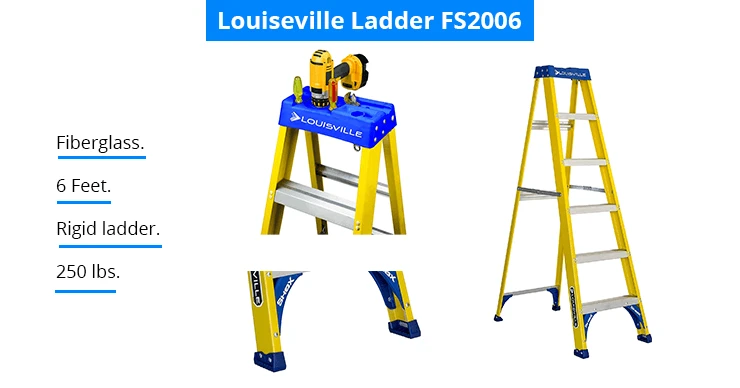 Flexible Ladder
Flexible ladders, also referred to as Jacob's ladders are light and portable devices that are suitable for traveling. Due to their flexibility, they are also suitable for climbing the curved surfaces of caves and responding to emergencies on vessels such as boats and ships. The best flexible ladders have either flexible or rigid rungs that support different applications. Unfortunately, because they tend to swing while in use, they are significantly harder to use than rigid ladders but are the only option to use in some scenarios.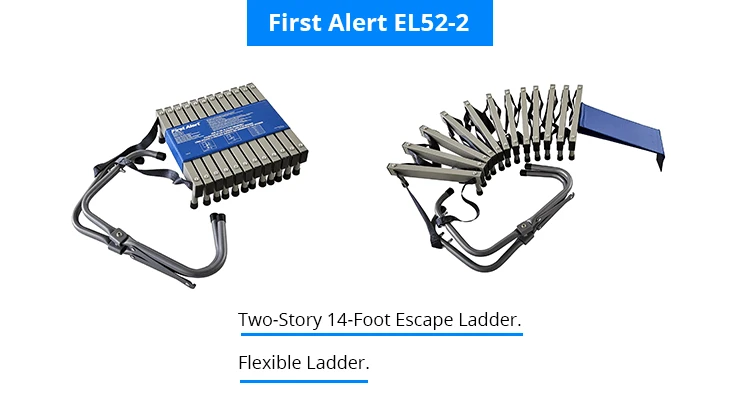 Dissipative Ladders
Nowadays, most ladder types available in stores support general and commercial jobs, including electrical ones, as they withstand Electrostatic Discharges (ESD). An ESD is a natural phenomenon that occurs when an electrical current flows through a conductor such as metal or the human body onto another object or conductor. Have you ever received a mild shock whenever you touch a doorknob and open a door at home? The mild shock was an ESD.
Dissipative ladders have a higher electrical resistance than other types. Therefore, they discharge electrical energy from one point to the next slower than other ladder types, lowering the incidence of ESD.
Boarding and/or Pool Ladders
Many people use ladders to climb into aquatic vehicles such as boats or the aboveground pools found in homes. This is where boarding or pool ladders come in handy. Most models have plastic rungs with a textured or rugged surface that boosts grip. Rails are often non-oxidant stainless steel, which does not rust and supports heavy loads.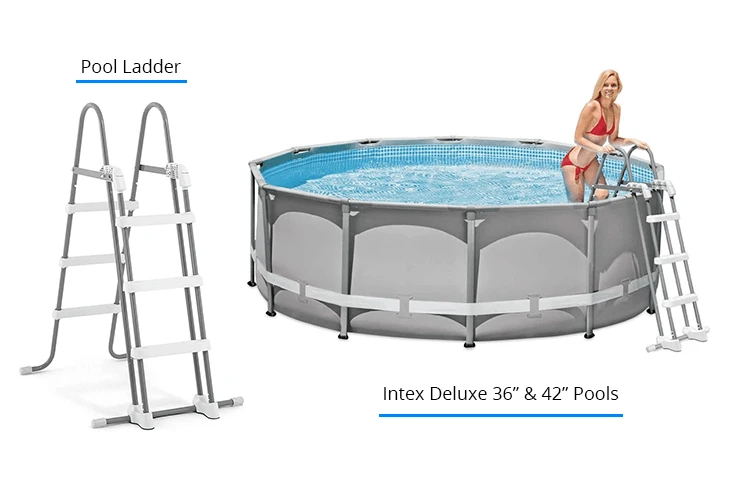 Assault Ladders
Apart from conducting special covert operations, Assault Ladders play many roles, including boarding moving vehicles. They have wider structures that are stable while in motion. Moreover, you can fold and store it in a small space when not in use. Most models are aluminum with a non-reflective black finish that protects them from the elements. Assault Ladders work seamlessly in small areas where other regular-sized ladders cannot fit or work. Their stability also makes them safe to use in all areas, especially aggressive ones.
Ladder Types by Material
One of the most important considerations to keep in mind while choosing your next ladder is its material. The choice of material not only reflects pricing, but also the durability of the product and thus your safety. While ladder materials are diverse, the most common are steel, wood, fiberglass, and aluminum, each with its cons and pros. We have a comprehensive breakdown of each material.
Wood
Wood is the cheapest and most versatile material used to make the best ladders. Because of their stability, they are suitable for handling simple household chores such as accessing shelves or cupboards. Unfortunately, because of their susceptibility to water and tendency to warp, splinter, and chip, they do not work well outdoors.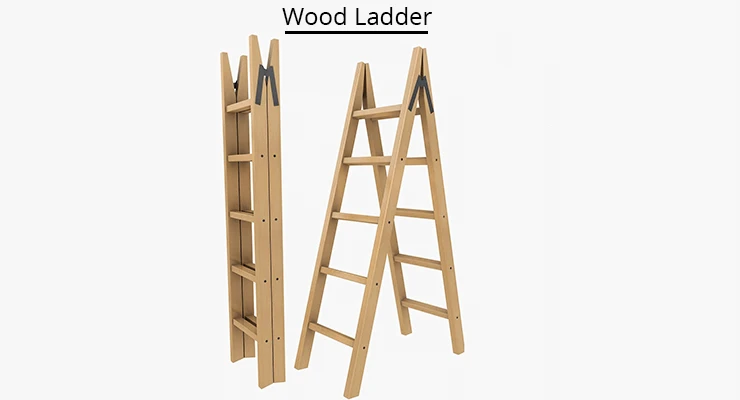 Aluminum
Aluminum is the lightest of the four materials we have reviewed but is slightly more expensive than wood. It is also suitable for handling most household and commercial projects, as it is more durable than wood and can reach heights of up to 25 feet without sacrificing safety. However, because of its light and flexible design, expect its rail to bend slightly over time, which steps might sag. Moreover, because aluminum is a good conductor of electricity, pay attention while using power tools on it. If possible, choose another material for safety.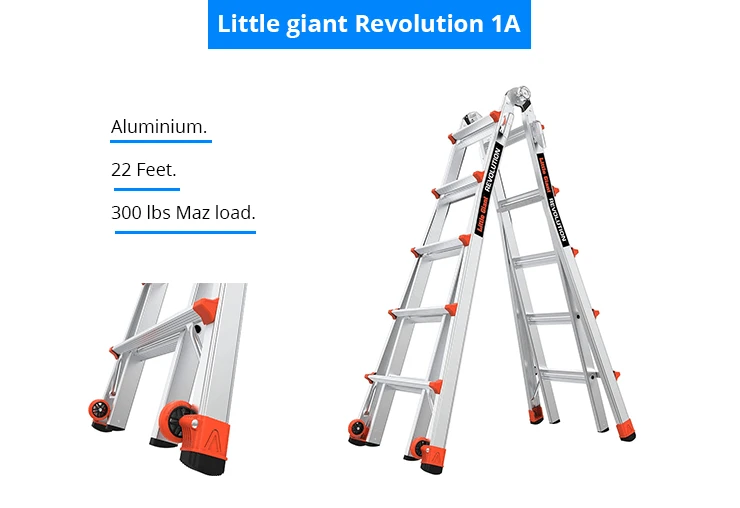 Little Giant Ladder: Works safely on ramps, stairs, docks, curbs, and uneven surfaces. The aerospace material used to make it is robust.
Fiberglass
Fiberglass is the most preferred material by professionals. While it is expensive and heavier than aluminum, it by far is the most durable. With proper care, you might only need one fiberglass ladder throughout your career as a carpenter or electrician. It also makes some of the safest ladders due to its high electrical resistance and the rugged surfaces (textured) that offer a stable platform for working in wet environments. However, like other materials, fiberglass has its limitations. Even though durable, the material is heavy, limiting the height of ladders that manufacturers can produce. Overall, it is rare to find a fiberglass ladder that can extend up to 25 feet. Moreover, because of the significantly higher cost of fiberglass, most people cannot afford middle-length models.
Whenever you need a heavy-duty fiberglass ladder for a job and cannot afford a new one, you can always rent one for a day or two.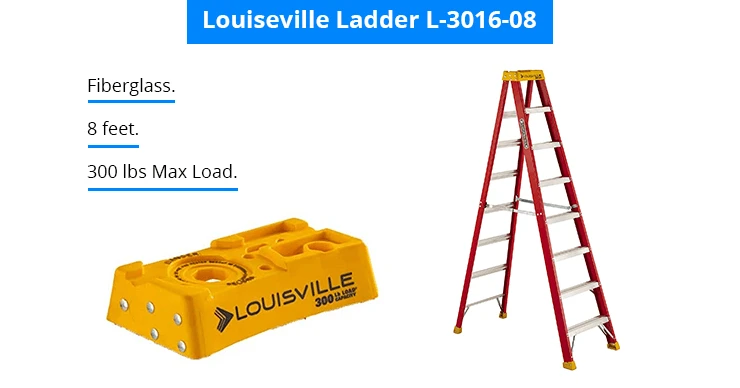 Louisville L-3016-08 can support up to 300 pounds. It has angled aluminum feet with slip-resistant rubber contacts.
Steel
Steel has a 4,000-year history, making it one of the most dependable materials used to make ladders. The materials and thus ladders can take a greater beating than other models can. Therefore, if you have a warehouse or do heavy-duty repair jobs often, this is the best ladder-type to buy. It is heavier and tougher than fiberglass and aluminum. Moreover, because most models have a portable platform, moving them around warehouses or homes is a piece of cake.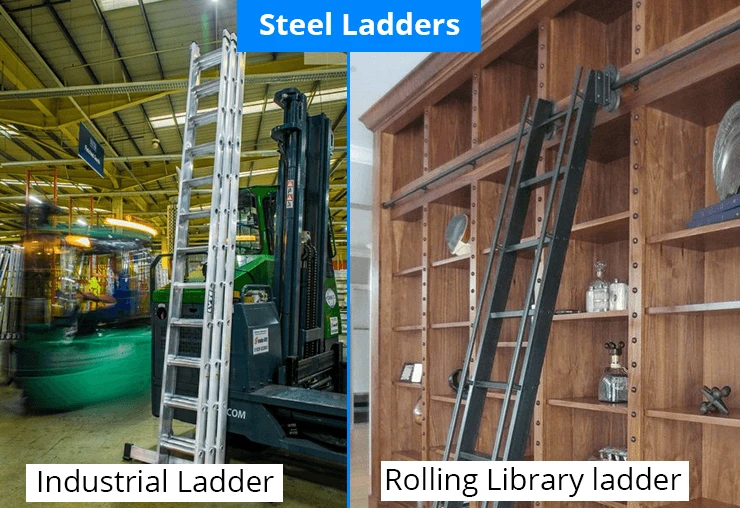 Steel has its share of cons, most of which people can work around. For instance, being an alloy of iron, steel conducts electricity efficiently. Therefore, if you are working in a high voltage environment, stick to ladders made from poor conductors such as fiberglass. In the past, rusting was another major limitation of steel, but this has changed with the discovery of stainless steel alloy and non-oxidized paint later on. Therefore, you can expose these ladders to elements such as the rain without developing structural issues. Finally, even though heavier than other brands, this is no longer an issue in warehouses as most ladders have secure rails and wheels.
Types of Ladders by Intended Purpose
The key to finding the best ladder for your next job is to factor in the task you will be doing and what you need in decision-making. For instance, how long will be using the ladder per day? What general working conditions do you expect? At first, selecting one of the many ladders available in stores can be a daunting task. However, irrespective of size and type, ladders play one key role – climbing. We have reviewed a few bestsellers to help you to choose the best.
Step Ladders
Step ladders are among the commonest brands in the market. These self-supporting accessories have a stable triangular shape that you work in two ways – Front-Step for a single user and Twin-Step for two or more users – one on each side. Therefore, step ladders are the most recommended for doing house chores like cleaning or changing bulbs. They also come in handy while painting the walls.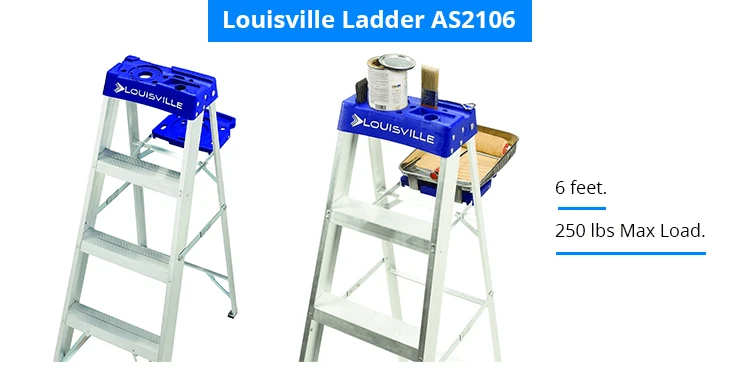 Louisville Ladder AS2106 has a Multi-functional ProTop with Tool Slots, Steel Gusset Bracing, Angled legs with Slip Resistant Rubber Feet, and, Molded Pail Shelf.
Includes: Magnet tray, curved front, hardware tray, drill and tool slots, pipe/ 2×4 holder, and a paint bucket holder.
Extension Ladders
Extension ladders are the second most recommended ladders, losing narrowly to step ladders. Unlike stepladders that have a support system, these lack a self-support system. Instead, they need stable support such as a wall or pole to work, but can reach higher points. These ladders are in two parts – a stationary base for support and a moving ladder or fly. These two parts are identical in length. You will need storage space that is half as long as their maximum height.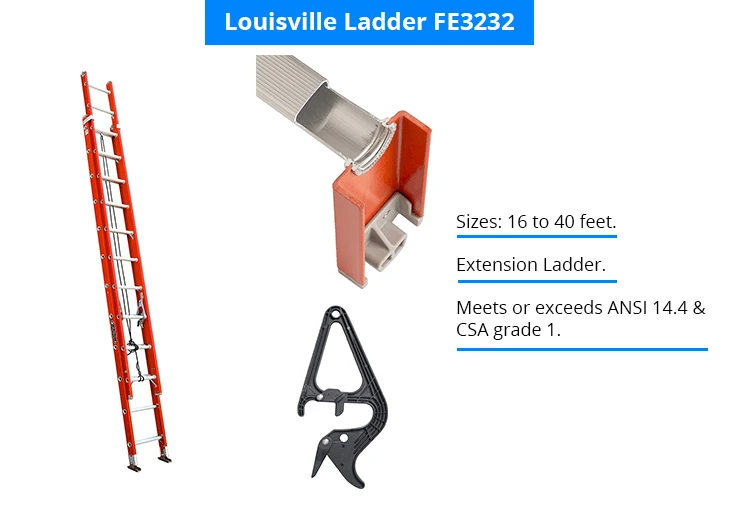 Features:
Mar resistant end caps.
patented quick latch rung lock.
Steel plated swivel safety shoes.
Articulating Ladder | All-In-One
Articulating ladders can transform into a variety of ladder types such as Scaffolding, Extension Ladder, 90° Ladder, A-frame Ladders, and Staircase Ladders. The Little Giant System, for instance, is a desirable articulating ladder system that can satisfy the needs of most people. Check out its video below and decide for yourself.
Video | Little Giant Revolution Ladder
Buy Little Giant Ladder with ratcheting lever system from Amazon.
Telescoping Ladder
Telescoping ladders have secure designs with many overlapping sections. Therefore, you adjust its height by sliding its components in and out. You can optimize its system to deliver the best results.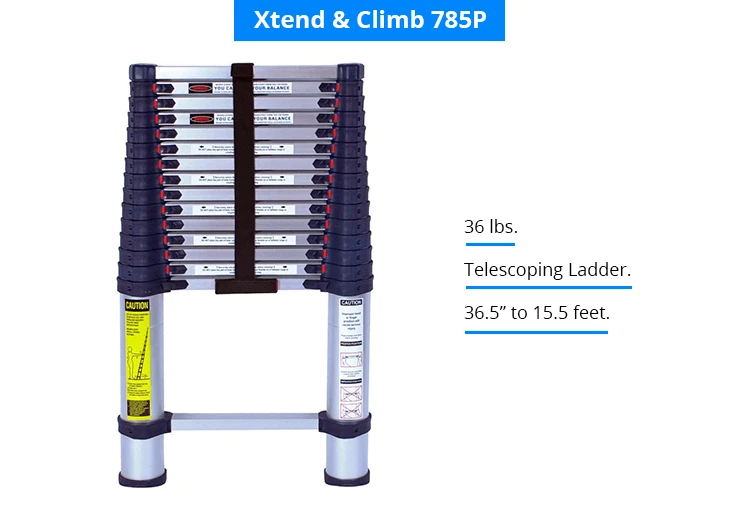 Features (Xtend & Climb 785P):
Has a True Telescoping Technology (Patented).
Made from Aerospace Engineered airplane-grade aluminum alloy that lasts for long.
Platform Ladder
This refers to any type of stepladder with a secure platform at the bottom instead of a step. Because of their stability, they are suitable for working in a standing position for long without irritation.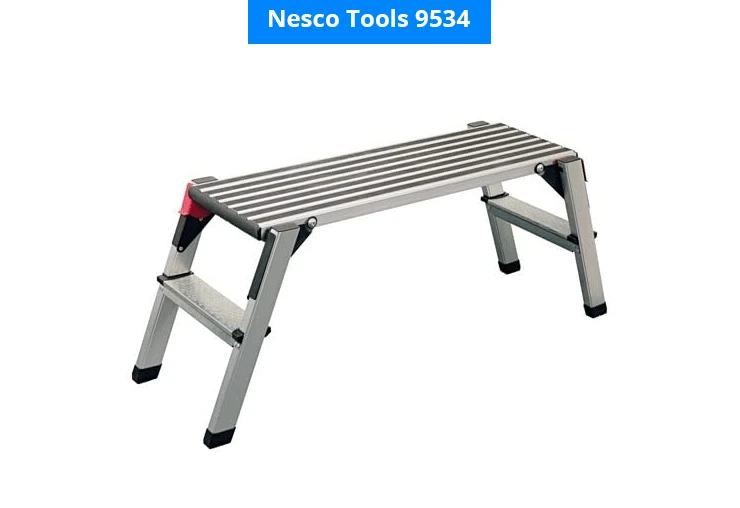 Folding Ladder
Refer to self-supporting accessories (foldable) that are easy to store.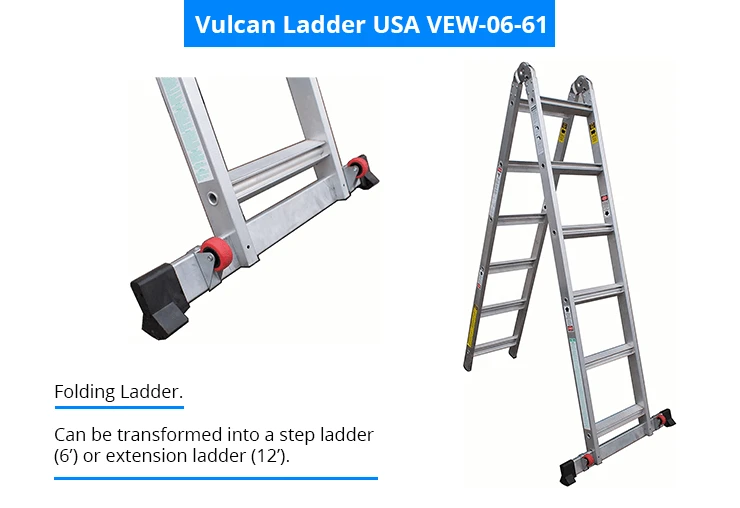 Most ladders have compact and foldable designs that are easy to store at home in garages or sheds.
Step Stool
Have between one to four steps that come in handy in garages, kitchens, and bedrooms, to name a few. Because they are smaller and lighter than other brands, they are easy to transport. The thick plastic used to make most of them is durable and has an OSHA-certified design that supports roughly 200 pounds. A few stools are even tougher as they can support approximately 300 pounds.
Features:
Foldable design (3-inches wide and 27.25-inches high).
Large and secure top step.
Non-marring feet.
Roof Ladder
Commonly known as chicken ladders or cat ladders, roof ladders are suitable for working on roofs. Most models have adjustable designs.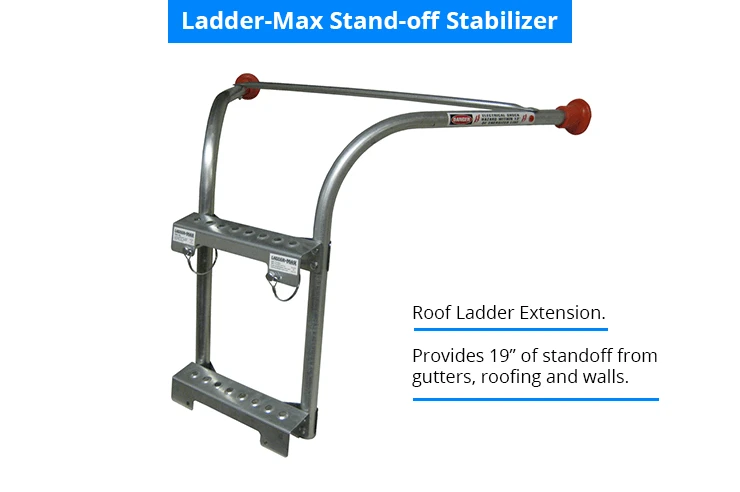 Protects Gutters and boosts the safety of users. It also has a heavy-duty rating of 1AA and a special duty rating of #375.
Attic Ladder
This eliminates the inconvenience of using single-step ladders and regular extension ladders to access attics. They support a lot of weight and have foldable designs that take up little space in storage.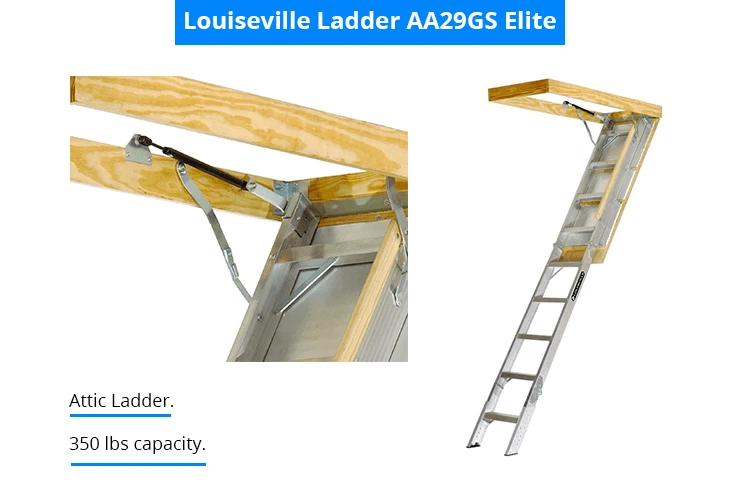 An example of an attic ladder.
Orchard Ladder | Tripod Ladder
Tripod/Orchard ladders are simple, three-legged accessories (stepladder) for landscaping and harvesting fruits, to name a few. The flexible third leg enables you to position the ladder anywhere on your lawn or garden and work hassle-free.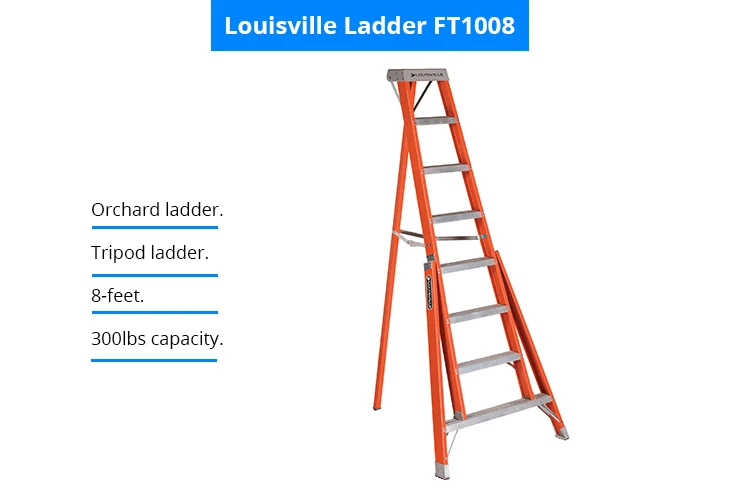 Features:
Steel reinforced outrigger.
Double rivet step construction.
Center-pull spreader brace.
Flexible Ladder
This non-rigid ladder is one of the best models for accessing uneven terrains, climbing in and out of moving aquatic vessels, and escaping buildings during emergencies. Key materials are chains and ropes.
This portable ladder can help you and your family members to evade emergencies at home. Thus, it is necessary for the home. You will be able to escape emergencies such as fires in low and high-rise homes.
National and International Manufacturing Guidelines
European Union (Including the United Kingdom)
All European countries abide by a ladder certification system referred to as Ladder Class. This certification and classification system covers all ladders manufactured and individuals who are selling ladders in Europe but also covers portable ladders (including stepladders) and extension ladders. The color-coded classes in this system have different specifications as follows:
Class I Ladder: Color-coded blue and recommended for industrial or heavy-duty home use. These ladders have a maximum load capacity of approximately 175 kilograms.
Class II Ladder (or EN131): These ladders do not have a specific color code but are suitable for commercial use. Overall, the ladders can support up to 150-kilogram loads.
Class III Ladder: Color-coded red and recommended for domestic use. The ladders have a load capacity of 125 kilos.
United States
This category refers to the regulations and standards that all ladder manufacturers should abide by in the USA. To main organizations – ANSI and OSHA control and oversee these processes. Let us check them out.
OSHA Ladder Type Ratings
OSHA has a few guidelines for manufacturers that cover product optimization, safety, and tips for maximizing the durability of ladders.
Type IAA: Label for ladders for industrial of heavy-duty. These ladders can support up to 375 pounds.
Type IA: Label for heavy-duty ladders for industrial use with a recommended load limit of 300 pounds.
Type I: Label for medium-duty ladders for commercial use with a recommended load limit of 250 pounds.
Type II: Label for light-duty ladders for commercial and household use with a recommended load limit of 225 pounds.
Type III: Label for extra-light duty ladders for household use with a recommended load limit of 200 pounds.
OSHA Manufacturing Guidelines
Like the ladder-type ratings stated above, these guidelines apply to all ladder manufacturers in the USA. However, unlike the former that provides information on safety, care, product use, and how to maximize longevity, the manufacturers make an informed choice.
According to these guidelines, non-self-supporting and self-supporting portable ladders should be able to support at least four times their recommended load capacity.
This does not apply to plastic or extra heavy-duty ladders, though. If you produce such, make sure that they can support 3.3 times their load capacity to abide by the safety guidelines.
Steps (or rungs) should be equidistant, parallel, and level. Spacing from one rung to the next should be 10 to 14 inches. Finally, the steps should be non-slip.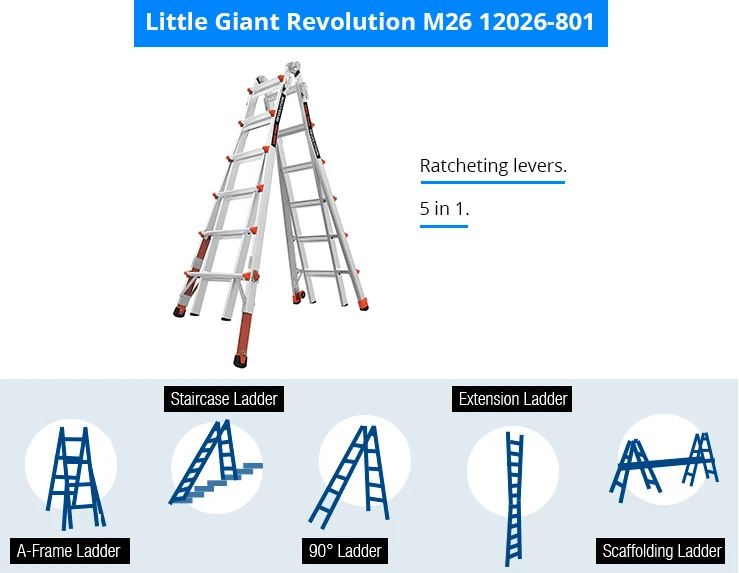 The Revolution works safely on ramps, stairs, curbs, docks, or uneven surfaces
Download or View the Little Giant Revolution Ladder System's MANUAL.
ANSI Standards
ANSI defines the manufacturing standards from American countries. The institute's 1000 members represent the relevant parties in this industry tasked with the decision-making process. These include the government, companies, and educational, individual, and international members.
The ANSI committee ensures that manufacturers of ladders abide by the Accredited Standards Committee (ASC) A14. The committee works in consultation with the American Ladder Institute (ALI) to come up with standards that oversee the design and manufacturing process of ladders. It also covers selection, testing, safety regulation, and recommended care practices for ladders of all types and sizes.
For a detailed list of all these standards, check out the American National Standards Institute (ANSI) website.
Ladder Accessories
For the most part, you will not be able to work efficiently using a ladder alone. Ladders have a plethora of accessories that make work more efficient – you should check them out. These not only save you time but also boost safety indoors or outdoors. For the best results, order accessories from directly from your ladder's manufacturer. Some of the commonest ones that all individuals should have are:
Ladder Planks: Made from aluminum and wood, planks enable you to walk safely on your ladder while covering a large area of your home or work site. They are comfortable and super stable as well. Most OSHA-rated planks can support up to 250 pounds if designed for one person, 500 pounds for two people, and 750 pounds for three people. Wooden planks are not only stiffer than aluminum planks but also lighter, while aluminum planks are safer and long lasting.
Telescoping planks cover a larger working area and are often made of aluminum. Furthermore, they are easier to store after use as they fold into a compact package. The best scaffolding planks can be aluminum, wood, or steel but only work on scaffolding ladders.
Ladder Platforms: Ranked among the most popular ladder accessories in stores, ladder platforms have an OSHA rating of 300 pounds. Therefore, they are perfect for supporting workers and heavy tools while working. They also create a significantly larger work area and are comfortable to use irrespective of skill level.
Ladder Levelers: Suitable for fiberglass and aluminum ladders, ladder levelers play a simple yet essential role. If you have a wobbly ladder that is challenging to use on uneven terrain, order a set today. They not only boost the stability of ladders but also their safety on uneven surfaces indoors and outdoors. Levelers are large (up to 15 inches) and easy to attach on the rails of ladders.
Ladder Standoffs: Also referred to as stabilizers, ladder standoffs are cost-saving alternatives for scaffolding ladders. It is compatible with most extension ladders and delivers approximately 19 inches of extra length from the point of contact (often a corner or wall) to the top. They come in adjustable and fixed models for handling a plethora of jobs including cleaning gutters at home.
Ladder Jacks: A ladder jack makes accomplishing scaffolding jobs easy without costing you a lot of money. Because of their stability and safety, they are suitable for replacing siding and painting. Install yours between the steps of your ladder as directed to boost support.
Ladder Safety Tips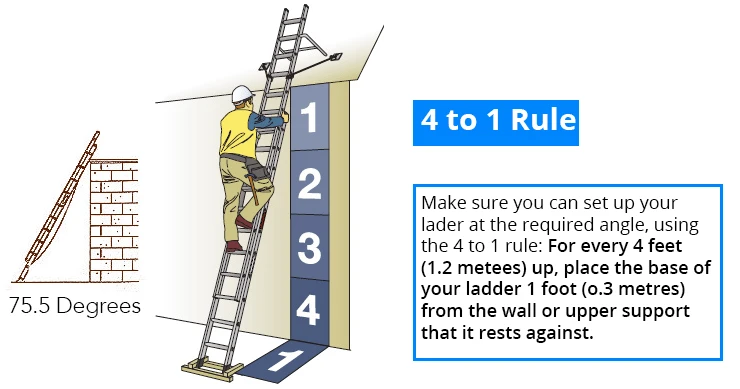 Did you know that a majority of occupational injuries (and even death) are a result of people falling from ladders? Many people, especially novices, slide and fall off ladders for failing to follow the recommended safety guidelines. OSHA provides detailed safety tips that professionals and homeowners should follow to avoid such issues. Here are some of the most important pointers for you:
Whenever you are using a ladder at home, always maintain a three-point contact with your ladder to maximize stability and safety. For instance, you can use two hands and a few while working on tall sites or two feet and a hand.
Climb your ladder straight and facing upwards, while keeping your body at the center of the steps to maximize gravitational force. The risk of tumbling over is relatively low by doing this.
Before you use an extension ladder, check if all locks are secure and in the correct position.
Do not use the top-most step of the ladder if the manufacturer did not design it for that purpose.
Whenever you are working on an elevated surface, position the ladder at least three feet from a support point (usually a wall) and the last step or rung (approximately three steps).
To maximize stability, position the base of the ladder from the support point at a distance that is approximately a quarter (1/4) of the total length of your ladder. For instance, if you own a 12-foot ladder at home, the distance between your support and the base of the ladder should be around three feet.
Do not use a conductive ladder next to an electrical wire.
Make sure that you fold your ladder (if extendable) before storage or setting it up on a support.
Do not use an overextended ladder at all costs. The overlap of the sections should also be optimal. For safety, use the minimum recommended overlap, especially if you are a novice.
Do not climb higher than your ladder's fourth rung (from the top) for safety.
Do not use a ladder on slippery surfaces such as snow or ice unlike it has secure feet, optimized to work on such areas.
Do not adjust the top of the ladder by bouncing on it or from the top.
Never leave an extended ladder unattended.
Do not use a ladder while dizzy or tired, as you are more prone to losing balance and falling Stay safe always while working.
Do not use a ladder in stormy weather or high winds.
Always make sure that your shoes are clean and slip-resistant before using a ladder. Do not wear shoes with soles made of leather or plastic, as they are more prone to slipping on ladders.
Check the ladder to make sure that it is in excellent condition before using it indoors or outdoors.
Only one person should use a ladder at a time unless you have a model such as the Trestle Ladder, built to support two people.
Do not store or use a ladder in front of a closed door. People can open the do and trip you over, leading to serious injuries. If you must work in such an area, leave the door open. You can also ask a colleague to lock or guard it while working on the ladder.
Read the safety instructions of the manufacturer before using a ladder.
Do not exceed the recommended weight rating of your ladder.
Learn more about OSHA ladder safety standards.
OSHA Ladder Safety Documents;
Video | Ladder Safety