The garage of your home is as much part of your own house as the living room where you have dinner with your family. If you have a garage, you know that it is not just a space to store your car when you are not using it. Rather, it has multiple functionalities that other parts of the house can never provide.
And you can only utilize the functionalities with some essential home garage equipment.
Depending on your lifestyle and hobbies, you may be using it for crafting, or you may be using that space to relax as well. Or maybe you are using your garage for additional storage space. Whatever that may be, here is a list of top ten home garage equipment that you should keep.
Top 10 Home Garage Equipment You Should Keep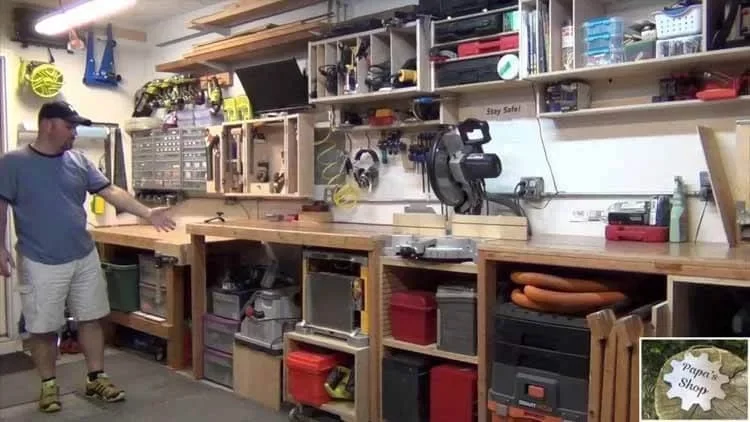 Air Compressors
Tools such as impact wrench can do a lot of tasks at hand with high efficiency. The best garage air compressor can power the impact wrenches better than electricity can ever do. It compresses the air molecule, converting kinetic energy into electrical energy to help power such devices.
But forgetting the intricate details of physics, air compressors are better at power-saving as they would not use electricity on doing heavy-duty work. Except for impact wrenches, it also can be used for multiple pneumatic tools.
Air compressors can also be used for cleaning your car with high-pressure air as well as spray paint on surfaces.
The air compressors we use in the garage are usually very well priced, so definitely an essential addition to your garage.
Workbench
While it may come as an obvious addition, it is astonishing to see how many people still do not have a dedicated workbench for their work hours in the garage. If you are serious about your work in the garage and you spend significant time there, an addition of a dedicated workbench can do wonder to your workflow.
There's nothing worse to the mins than being forced to work in a cluttered environment with hazardous instruments all over the place. A typical well-balanced plywood workbench will provide the comfort of the mind we all need when we just want to get ahead of our task with efficiency.
Car Lift/Auto Lift
If you drive a car yourself, you know the everyday nuances that a car may have. However, sometimes they can turn into something that restarting may not solve. If you have decent car knowledge, you may not want to take the vehicle to the store every time it has a hiccup.
A car lift can be the perfect addition to your garage if you have space for it. It gets your car to the perfect height to help you work with the engine or the tires underneath for a quick fix. And it is definitely worth the money you would otherwise throw at the hardware store every month or so.
One of the vital aspects of a garage is making sure that you keep it well-organized. Home to a lot of hazardous chemicals as well as devices, you don't want these lying around regardless if you have a kid lying around somewhere.
You would need them tucked away even for your own personal safety. Investing in a good quality storage box or a tool chest is a good idea to help you organize your workspace and the garage as well as to avoid any unnecessary accidents.
Torque Wrench
Definitely a tool you don't want to skip in your list of garage essentials, a torque wrench is an answer to making sure you have every nut and bolt in your car tightened up to avoid any unnecessary accidents on the road.
There are few different types of torque wrenches, but the most common ones are the beam torques and the click torques.
The beam torque wrench shows the gauge, which displays the strength of the current torque while attached. At the same time, the click torque wrench clicks after being presented to the desired value. Both working in different ways essentially provide the same result. However, the convenience of the method is what is at stake here.
Except for beam and torque wrenches, there is also an electronic torque wrench with an LCD display for accurate value representation.
An assortment of general hand tools such as screwdrivers, knives, pliers, tapes, and wrenches, to name a few, is one of the essential equipment you should keep in your garage. You could pick up a set from any hardware store which includes all of these and more rather than picking them up one by one.
Portable Lights
The light you have installed in the garage is oftentimes not sufficient for your work under or below the hood of the car. Of course, you could try to do the job with a torch, but that is not the best solution as they often have singular direction light rather than an omnidirectional one.
There are a lot of different garage portable lights in the market which can suit your needs better, and that is why we believe that portable lights are one of the essential equipment you should keep in your garage.
Safety Gear
When presented with a garage full of high powered tools, without proper protection, it is a breeding ground for accidents waiting to happen. You may not even realize, but you would definitely be a victim if you don't have proper safety gear when working in a garage.
Definitely few of the most important safety gear you should have with you are protective gloves and eye wears. You can add in more functional ones such as the shields later on, but these two are a definite must.
First Aid Kit
This may seem such a silly suggestion, but if your garage is detached from the main house, this addition could be the determiner between life and death in many situations. We recommend keeping a paramedic standard at your garage at all times.
Fire Extinguishers
Last but definitely not least is the fire extinguisher. It is definitely never impossible for a fire to break out in the middle of your garage with the engines and other highly combustible parts just a few meters away. It is definitely better to be safer than sorry.
Conclusion
These are essentially the top ten home garage equipment should keep. Of course, it is not the ultimate list, as each and everyone has their own different needs, but hopefully, this was a guide that we hope will take you in the right direction.