We've come a long way from the time we used to hunt and forage for food. But it's an adventure to take to the woods and hunt for sport once in a while. You'll want to go prepared, with a bow in hand and arrows in your quiver.
Since technology has come a long way, so have our options for bows. With advanced construction using quality material, and a feature set suited to your needs, you'll find the best hunting bow of all time on the market today. So dust off your hunting boots.
Editors' Picks for Top Hunting Bow
Top 12 Best Hunting Bow Reviews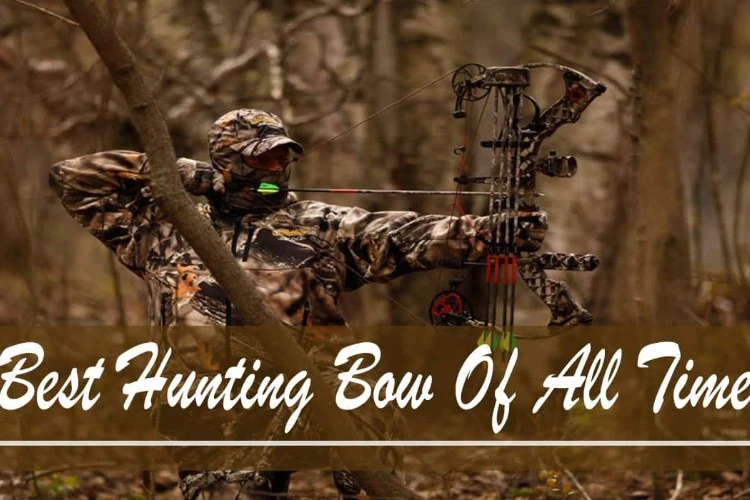 Accuracy, speed, and balance matter when you're choosing a bow. Thankfully, there are great options that have all these features and more incorporated wonderfully. All you need to do is decide the one you want. Here are our favorite ones.
1. CenterPoint Sniper 370 Crossbow Package Review
Looking at sheer power and accuracy, this is the best hunting bow you can get. This crossbow shoots at 370 FPS, which is insanely fast. You can draw it axle-to-axle over 18 inches at a draw weight of 185 pounds.
It has string suppressors integrated for minimal vibration, and the foregrip and stock are adjustable; it fits every shoulder. Since it has an aluminum and composite build, it's comfortably lightweight. Additionally, the ambidextrous trigger suits both left-handed and right-handed users.
Highlighted Features:
370 FPS arrow speed.
185 pound draw weight.
String vibration is minimal.
Relatively lightweight.

2. Genesis Original Hunter Bow Review
It's a good idea to start simple, and this is the best beginner hunting bow to get you going. It's suitable for archers of all ages and sizes, but kids will especially enjoy it. The National Archery in the Schools Program picked it as its official choice.
There isn't any specific requirement for draw length; the user can adjust the string if they hit a growth spurt. It also uses a single-cam system that manages noise, recoil, and tuning issues.
Highlighted Features:
Makes little noise.
Manages recoil well.
String length is adjustable.
A great choice for beginner archers.

3. Bear Archery Cruzer G2 Adult Compound Bow Review
Here's an archery compound bow that's good at several things. It's a decent choice for archers of all ages and hunters looking to catch small game. With an axle-to-axle distance of 30 inches, it has an adjustable draw length from 12" to 30".
The peak draw weight is 70 pounds, which is pretty decent; however, it can shoot at 315 FPS. Adjustability is pretty easy as you only need an Allen wrench. And it's customizable to fit any shooter.
Highlighted Features:
You can adjust the draw length.
315 FPS shooting speed.
Easily adjustable with an Allen wrench.
Weighs 3 pounds.

4. DOSTYLE Archery Takedown Recurve Bow and Arrow Set Review
If you're getting started with recurve bow hunting, this set is a great option. It has a simple design for right-handed use, and it includes all the essentials. The limb is fiberglass, and the riser uses a magnesium-aluminum alloy.
This bow has a draw weight of up to 40 pounds and has threaded brass bushings pre-installed. The package includes two limbs, a riser, a bowstring, and twelve arrows, among other accessories. It's also good for competitive target shooting.
Highlighted Features:
Comes with essential accessories.
Forty pounds draw weight.
Uses fiberglass and a magnesium-aluminum alloy.
Has a right-handed design.

5. CenterPoint Archery Elkhorn Youth Compound Bow Review
For anyone looking for a great compound hunting bow, you've found it. This product is durable and can go for years, thanks to its heavyweight composite limbs and riser. It's 33 inches long between each tip.
This bow can reach a 17 to 21-pound draw weight with a draw length of up to 26 inches. Its brace height is 8 inches, making it forgiving and accurate. Beginners will love it, and so will more seasoned hunters.
Highlighted Features:
The brace height is forgiving.
It's a relatively long compound bow.
Has a durable build.
Comes with heavy-duty all-weather strings.

6. RingingRocksArch Bamboo Backed Hickory Recurve Bow Review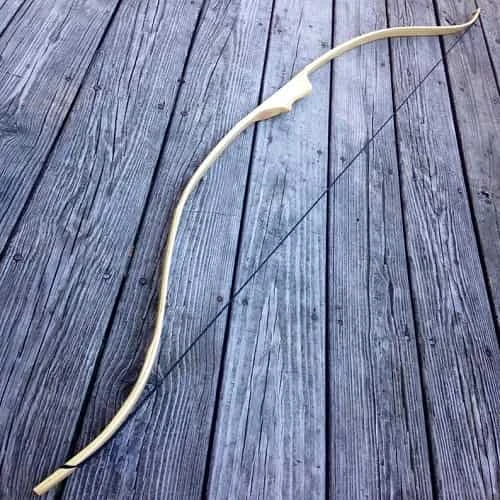 Let's look at a handcrafted specimen that's arguably the best hunting bow on the market. It's huge at a 64" length, and you can reach a maximum draw length of 30". The bow has a pistol grip and a Tru-Center arrow shelf for an enjoyable hunting experience.
Craftsmen handcraft and tiller each unit carefully and check the quality before shipping. As soon as you take it out of the box, you'll find it ready for archery and hunting.
Highlighted Features:
Handcrafted with care for quality.
Extra-long in length.
Extendable draw length up to 30".
Ready to shoot on arrival.
7. KAINOKAI Traditional Handmade Recurve Archery Bow Review
With the high draw weight and the strong build, this product is the modern bow the forest hunters prefer. The manufacturers use transparent epoxy for the bow and wrap it in leather, ensuring a firm grip and unbreakable strength.
It can handle a draw weight of up to 70 pounds with fast shooting speed. Whether you're right-handed or left-handed, it's very user-friendly. For the serious hunter, it's also waterproof. This recurve bow doesn't disappoint.
Highlighted Features:
Waterproof wood for use in rain.
Has a heavy-duty epoxy body.
The maximum draw weight of 70 pounds.
Ambidextrous use.

8. Toparchery Archery Takedown Hunting Recurve Bow Review
In the market for the best compound bow for the money, this one provides exceptional value at a low price. The whole bow is 56" long with a 17" riser, making good aim; this riser uses aluminum.
The bow itself has a maple core covered in fiberglass. While it has amazing strength, it has a draw length of 30" and shoots at great speeds. Archers prefer this model for competitions, but it's also a good pick for hunting.
Highlighted Features:
A longbow of 56" length.
Comes at an affordable price.
Can be drawn up to 30".
Has fiberglass build with a maple core.

9. RingingRocksArch Competition or Hunting Bow Review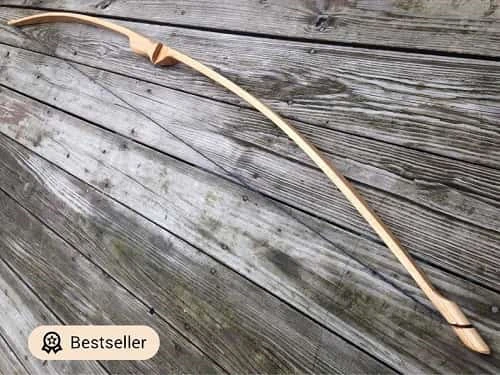 Even the best hunting compound bow may succumb to weather and age poorly. This longbow is sanded with a fine finish and coated with a polyurethane layer for lasting protection. It's handcrafted and minutely checked before shipping.
As for performance, it's long and therefore allows a long draw length up to 30 inches. It's great for hunting and target shooting, given its accuracy in the right hands. And since it's 1.5 inches wide, it's stable and comfortable to hold.
Highlighted Features:
It's 64" long.
Has a weatherproof polyurethane finish.
30" maximum draw length.
Good for hunting and archery.
10. Leader Accessories Compound Bow Review
This item is the most powerful bow in its market segment for its perfectly balanced features. You can draw from 19" to 29," and it can muster up to a 55-pound draw weight; the result is an impressive 296 FPS arrow speed.
The brace is 7" long, which makes for accurate shooting. Along with the bow, you get a fiber-optic sight, release aid, and a drop-away arrow rest, among other things. The bow itself weighs just 3.3 pounds and is easy to carry.
Highlighted Features:
Draw length from 19" to 29".
The highest draw weight is 55 pounds.
296 FPS speed.
Double-cam design.

11. Predator Archery Raptor Compound Hunting Bow Kit Review
Looking through hunting bow reviews, you'll find that this bow has some of the best-in-class features. It can shoot at a speed of 315 FPS at a maximum weight of 70 pounds. The 31" draw length also contributes to the amazing power.
As with other great compound bows, this one is also adjustable. However, you won't need a bow press; an Allen wrench will be enough. The whole thing weighs only 3.6 pounds, which is decently lightweight. And the package includes all the essential tools you'll need for setting up and subsequent use.
Highlighted Features:
Shoots at 315 FPS.
Draw weight reaches up to 70 pounds.
Adjustable with an Allen wrench.
Lightweight footprint.

12. Compound Bow Topoint Archery Package Review
The manufacturers have put thought into this product because they've created the complete package for hunters and archers. This right-handed compound bow can shoot at a speed of 320 FPS, thanks to its 28" axle-to-axle draw at a 70-pound weight.
Materials used on this package are imported and are all heavy-duty. You can use it for years, and it'll work just fine. Since this thing is powerful, we suggest you don't dry fire; it can cause injuries and damage to the bow.
Highlighted Features:
28" axle-to-axle draw.
320 FPS launch speed.
Heavy-duty build.
Includes all the essential tools.

Also Read
Final Verdict
Hunting and archery sometimes have one thing in common: a bow and arrows. To stand out and have fun, you'll want to get the best hunting bow of all time. Our list compiles and reviews the best ones out there. So, shoot for the stars!
Reference Links
Buy on Etsy
Southwest Archery Spyder Takedown Recurve Bow - Compact Fast Accurate 62" Hunting & - Walmart Link
Bear Archery Cruzer G2 Adult Compound Bow - Walmart Link
Sanlida Archery 2023 Dragon X8 Hunting Compound Bow for Adults and Teens/Limbs Made in - Walmart Link
Raptor Compound Hunting Bow Kit: Limbs Made in USA | Fully Adjustable 24.5-31" Draw - Walmart Link
Tongtu Recurve Bow and Arrow 52.3" Archery Set for Adult Right Handed Hunting Bow Kit 30 - Walmart Link
Deerseeker 62" Takedown Recurve Bow Archery for Hunting Targeting Shooting Adults & Youth - Walmart Link
XGeek Compound Bow and Arrow kit, Hunting & Target Bow, with All Accessories, USA-Made - Walmart Link
Buy on eBay
Southwest Archery Spyder Takedown Recurve Bow - Compact Fast Accurate 62" Hunting & - eBay Link
Bear Archery Cruzer G2 Adult Compound Bow - eBay Link
Sanlida Archery 2023 Dragon X8 Hunting Compound Bow for Adults and Teens/Limbs Made in - eBay Link
Raptor Compound Hunting Bow Kit: Limbs Made in USA | Fully Adjustable 24.5-31" Draw - eBay Link
Tongtu Recurve Bow and Arrow 52.3" Archery Set for Adult Right Handed Hunting Bow Kit 30 - eBay Link
Deerseeker 62" Takedown Recurve Bow Archery for Hunting Targeting Shooting Adults & Youth - eBay Link
XGeek Compound Bow and Arrow kit, Hunting & Target Bow, with All Accessories, USA-Made - eBay Link[amazon tag="zourtime-20" type="url" value="" ex="" count="20"]