Now that we're all stuck at home for COVID-19, our decks are the most cherished part of the home. Even during non-quarantined times, decks have always been a space of tranquility, family time, peacefulness, and memories of laughter for most people.
Anyone with a deck in their home knows that this part of the house requires some maintenance like the other parts as well. Thus, nothing is better than a polished, clean deck for a relaxed life.
So, looking for an excellent cleaner that won't harm the wood? We have reviewed some of the best composite deck cleaners right below just for you.
Top Composite Deck Cleaners by Editors' Picks
A Buyer's Guide To The Best Composite Deck Cleaner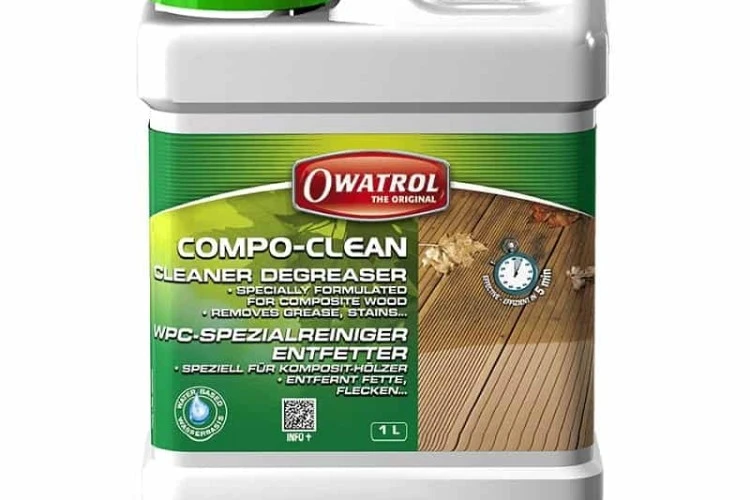 Before we go into the reviews, you'd need to know about deck cleaners and what to look for before purchasing one. There are hundreds of brands offering lucrative features but you should look for some specific things; we have explained them below for your convenience.
Surface Compatibility
The first thing you need to look for in a deck cleaner is whether it's suitable for your deck or not. If your deck is made of timber, you need to be pickier as wood tends to get damaged by abrasives.
In that sense, always check the label before buying it. You can find out what kind of surface the deck cleaner should be used on its label.
Versatility
Most people don't use their deck cleaners on just the porch. Usually, you can use them for washing the driveway, car, and siding. Hence, look for the products that are suitable for paving, vinyl, rubber, or metal; that way you will be able to use one product on many things.
Ideal For Your Equipment
Every deck cleaner is suitable for different equipment. Some cleaners work with pressure washers and others can be used with a mop. If you have a pressure washer, we recommend you look for cleaners that are compatible with it. Many products can be used with a mop so you can opt for them as well.
Cleaners With Oxygen Bleach
Oxygenated deck cleaners tend to be more popular these days. The reason is that these products are more environment-friendly and also efficient. Besides, Sodium Percarbonate is better for your deck as well.
Biodegradable Product
Decks have plants around them and they are often close to plant-beds or lawns. If you live in the countryside, chances are you are often visited by wild animals. This is why you need to use a biodegradable product on your deck.
However, most cleaners available in the market are biodegradable so you won't have trouble finding one. Just look out for it.
Texture
Deck cleaners can be granular or liquid; so opt for the one you're comfortable using. If you don't have enough storage space, we recommend going for the granular one. Just mix it with water before use.
Efficient
The cleaners you are using should clean-up molds, hazardous substances, stench, algae, and other stuff that's making the deck slippery. If the product isn't doing these, you're just throwing your money away. Therefore, make sure you purchase a strong and efficient deck cleaner for effective cleaning.
Top 10 Best Composite Deck Cleaner Reviews
Now that you know what to look for, give our thoroughly reviewed products a read to find the ideal cleaner for your composite deck.
1. Star Brite Non-Skid Deck Cleaner Review
The first one on our list is this amazing cleaner from Star Brite. If you're moving into an old home that needs a lot of cleaning, this is the best deck cleaner for you.
You can use the cleaner every other day without harming your deck surface or lawn. It can even work on painted surfaces and doesn't cause any damage to the paint. The cleaner is also compatible with metal, fibreglass, plastic, vinyl, and rubber surfaces.
Mold and mildew can be very hard to remove even after repetitive scrubbing. You don't have to scrub very much if you're using this cleaner that comes with chelating agents. This property of the cleaner allows it to remove mold, mildew swiftly by breaking them into molecular levels.
Moreover, using this product once will keep your deck shiny for a long time. The protective polymers of this cleaner create a barrier to protect your deck from future marks or stains.
Do you have polished surfaces that you cannot scrub and thus cannot clean them as much as you'd like to? Well, this cleaner doesn't remove polish or wax.
Pros
Versatile
Provides protective layer
Wax-safe
Polish-safe
No-scrubbing required
Cons

2. Kleeners Choice Outdoor Multipurpose Cleaner Review
If you live around nature, the best thing to do is opting for natural products; especially if you are going to use these products on your deck. Our second pick for you is this all-natural cleaner from Kleeners Choice.
The product can work on many things including your deck. You can use it to clean the mirror, your furniture, floor, and even your car. Its versatile use makes it popular among people.
Accordingly, being completely free of chlorine bleach and oxygenated, the cleaner is excellent to be used outdoors. Even if it falls on your plants, they will be fine. You can even use the product on fabric without risking discoloration.
This is a granulated deck cleaner; you just have to mix it with water for application. The cleaner can be used with a mop or a power washer based on your convenience.
5 gallons of this cleaner solution can clean an area of 750 sq. ft, which is excellent for large homes and versatile use.
Pros
Oxygenated
Biodegradable
Bleach-free
Can be used on fabric
Granular
Cons
Not as good as advertised
Requires scrubbing

3. Spray & Forget Revolutionary Roof Cleaner Review
No products found.
Looking for the most convenient deck cleaner? Then this one is just for you. The cleaner seems to be designed for all the lazy people like us out there. You don't even have to rinse it after application; it'll clean your deck like after heavy rain.
Likewise, only one product can cover an area of 2000 sq. ft. as it makes 10 gallons solution. It's fairly affordable so you're not spending too much on a small amount of product.
The best thing about this product is that it can be applied on any outdoor surface. You can use the cleaner to wash your car, roof, driveway, fence, porch swing, and even the sidewalk. It contains no chemicals like phosphates, bleach, acid, lye, or heavy metals.
So, made of all-natural ingredients, the cleaner does its job well without harming the environment.
At the same time, you will need to use the product over time to see actual changes. Plus, make sure to follow the instructions strictly and maintain your home so that it looks good as new in a few weeks.
Pros
Natural
Bleach-free
No-rinsing required
Makes 10-gallon solution
Covers 2000 sq. ft
Cons
Inefficient
Contains chemicals
No products found.
4. Spray & Forget House & Deck Cleaner Concentrate Review
No products found.
This one is also designed to be washed by the rain and manufactured by Spray & Forget. A unique feature of this product is its versatility even when you're depending on rain.
You can use the cleaner or fences, driveways, brick walls, and stucco. It's perfect for professionals and amateurs alike. A 64oz bottle of this cleaner can prepare 5 gallons of solution and clean 1000 square feet area.
Besides, these cleaners don't require water because they're activated by moisture. So you can just apply them to an area and wait for rain so that the formula starts working.
Once you have applied the cleaner, you'll need to wait for a few weeks to witness the changes. The formula cleans mold, algae, mildew, moss, and lichen stains over time and removes them almost permanently. You don't even have to scrub the surface for cleaning; just apply the product and it'll take care of your deck.
Overall, the application should be done using a spray gun so that every surface gets a similar consistency of products. It's made of all-natural ingredients, so you can spray it without a worry.
Pros
Non-corrosive
Affordable
Phosphate-free
Eco-friendly
Easy storage
Cons
Relies on rain
Slow results
No products found.
5. RMR-86 Instant Mold Stain & Mildew Stain Remover Review
Don't have the patience or time to wait for rain that'll clean your deck? Don't worry, this instant mold remover is perfect for a quick cleaning job. It will remove stains in a few seconds right after the application.
Moreover, the formula comes in a spray bottle so you don't have to worry about purchasing a separate bottle specifically for this cleaner. Just like we have always seen on television, simply spraying the formula on mold and mildew will remove them effectively.
You don't have to scrub the surface after application, just rinse it with water to get a brand new surface in a few seconds.
The cleaner works on many kinds of surfaces including bathtubs, bathroom tiles, wood, decks, shower walls, brick surfaces, concrete, and kitchen tiles. You can even use it to clean mirrors perfectly without damaging the screen as it doesn't require any scrubbing.
All you have to do for using this cleaner is spray it on mold or mildew, wait for 15 seconds, and then rinse. That's it! The best part about the whole cleaner is that it's affordable as well.
Pros
Cleans in 15 seconds
No-scrubbing
Works on many surfaces
Spray bottle
Affordable
Cons
Not-environment friendly
Can harm plants

6. EcoClean Solutions Mold Mildew & Algae Remover Review
If you live in the countryside, mold and mildew aren't the only enemies of your beautiful deck. You probably have algae growing on the side as well. On top of that, not all of us have the time to use a pressure washer or no-rinse cleaners on our decks; that is where the instant cleaners act as saviors.
This instant cleaner comes in a larger container available in 3 sizes; 1 gallon, 4 gallons, and 32oz. A spray nozzle is included with the cleaner so that you don't have to purchase one separately.
Apart from that, one gallon of the formula can clean up to 300-400 square feet comfortably. Depending on how much mold you have, this coverage can vary slightly.
Like the previous cleaner we have reviewed here, this one doesn't require any scrubbing either. Nobody likes to scrub mold and mildew as they're nasty. Hence, the cleaner will just make them disappear within moments.
Furthermore, the formula can work on shower walls, bathtubs, toilet bowls, stainless steel, brick surfaces, kitchen tiles, bath tiles, concrete driveways, wood decks, AC Units, and so on. You can use it wherever there's mold.
Pros
Versatile
Easy to use
Comes in 3 sizes
Free spray nozzle
Instant cleaning
Cons
Not environment-friendly
Strips paint

7. Wash Safe Composite Deck Cleaner Review
If your deck is porous, most composite deck cleaners must not work on your deck, but this one will for sure. This particular cleaner is designed to be effective on any porous surface and reaches deep into particles to clean them from the inside.
Mold and mildew would grow again if they're not completely cleaned. So use this cleaner for your porous surface to clean it effectively.
On the other hand, the cleaner isn't completely free of bleach, but it contains chlorine bleach in a moderate amount (only 5%). As the chlorine works on the deck's porous surface, you don't need to scrub the surface after applying this formula.
However, cleaning your deck for the first time? You will need to follow some steps for doing that. Chances are the cleaner won't reach deep into your deck and won't be able to wipe out all of the dirt. So mold stains will keep reaching to the surface and you'll need to clean them once or twice.
After the initial cleaning phase, you can clean your deck only once a month with a spray gun using this cleaner. Also, if you apply the formula 1-2 hours early of rain, you don't even have to rinse it.
Pros
1 gallon covers 250 sq. ft.
Very powerful
Works on a porous surface
Contains 5% Chlorine bleach
Safe to use
Cons
Cannot be diluted
Not environment-friendly

8. Simple Green Oxy Solve Deck Cleaner Review
Do you renovate houses and often have to work on completely damaged decks? If yes, you should definitely try this powerful deck cleaner to make your work easier.
The cleaner is designed for heavy-duty usage. You can use it to clean fences, decks and other structures like gazebos, pergolas, and carports. If you're purchasing a deck for only your home, you don't need to buy this one as it's more appropriate for professionals.
Besides, this formula can work on almost anything; it removes grime, oils, grease, stains, mold, algae, mildew, mud, clay, and moss. As the cleaner uses peroxide for removing grime, no harm is done to plants.
1 gallon of this cleaner can clean an area of 6,400 sq. ft. This is enough for most users. If you want more products, you can always go for the larger containers.
As the product is heavy-duty, it does contain some chemicals. So whenever you are using it around plants, be careful not to spray it directly on the plants. This might cause the plants to die very quickly.
Pros
Professional grade
Can work on gazebos
Uses peroxide
Removes oil
1-gallon container
Cons

9. Star brite Non-Skid Deck Cleaner Review
Star Brite has always been a popular brand of cleaners as they offer excellent quality products. This one is no different. The cleaner comes with a chelating agent which ensures that you don't have to scrub too hard for removing dirt.
It works on fiberglass, plastic, vinyl, rubber, painted, and metal surfaces. Likewise, this cleaner is gentle yet effective, which ensures that your surface's state is retained even after the cleaning session.
Accordingly, protective polymers of this cleaner prevent future growth of mold and mildew. Thus, it can work on polished and wax surfaces as well because it doesn't require much scrubbing.
If you always have trouble cleaning mirrors because they're not textured, this cleaner is perfect for you. You can just apply it on your mirror and wipe it away with the dirt when you're done.
The container itself is a spray gun, which means that you don't have to purchase a spray gun separately. Overall, it's an affordable and well-made product for every home.
Pros
Works on non-textured surface
Works on paints
Can clean rubber
Comes with protective polymers
Comes with chelating agents
Cons
Not environment-friendly
Scrubbing may damage the surface

10. Deck Wood Cleaner Review
The last product on our list comes in granular form and should be mixed with water for usage. Granular wood cleaners are simpler because they take less space and give you more flexibility on how much product you'd like to use.
Specially designed for wood decks, this cleaner opens the wood pores of your deck and applies oxygenated bleach to clean out the pores. Deep cleaning is very important for wood as molding may cause rotting to them.
However, as UV rays cause greying of wood, this cleaner works on that issue as well and makes the wood look as good as new.
Similarly, one container of the cleaner has 2.25Lb product and it can cover an area of 500-1,000 square feet. The total quantity of powder can make a 5-gallon solution. If you use it on a moderate amount, you can use the same container for a long time.
Pros
Specially designed for wood
Granular
One container makes 5-gallon solution
Can cover an area of 1000 square feet
Oxygenated
Cons
Not versatile
Weak formula

Frequently Asked Questions On Best Composite Deck Cleaner
Q. Is it important that my deck cleaners are oxygenated?
Answer : If you have a lawn and plants around your deck, yes, an oxygenated deck cleaner ensures the safety of your plants all the while cleaning your decks.
Q. Are chlorine deck cleaners more powerful?
Answer : Not necessarily. Both chemical and biodegradable deck cleaners can be powerful and effective if you're using them right. Chlorine cleaners tend to do the job faster because the chemical is more aggressive than natural products.
Q. Why does hydrogen peroxide turn foamy when applied?
Answer : Hydrogen peroxide or oxygen bleach creates a foamy layer to remove algae, mold, and mildew from your deck. The substance reacts with the surface elements and turns foamy.
Q. Do natural deck cleaners kill algae?
Answer : No, the natural cleaners simply remove algae from your deck so that you can rinse them off. But they don't necessarily kill anything because that requires the product to have harmful chemicals in it.
Q. Can I use instant or 30-second cleaners if I have plants or a lawn?
Answer : Yes, you can. But you need to rinse the plants with water for 10-20 minutes so that the cleaner is removed from the plants.
Final Verdict
Not many of us have a deck and if somebody has it, they should definitely take good care of it. If you use any of the products we have reviewed here, you can clean your deck comfortably and keep it free from the mold for years without issues.
However, check the surface of your deck before you pick the best composite deck cleaner. As most cleaners can be used on other surfaces too, you might as well check what else you want to clean with this purchase. Natural or not, be careful while using the cleaner as bleach damages clothing.
Buy on Etsy
DeckMAX Concentrated Composite & Wood Deck Cleaner Kit - Nation's Leading Wood & - Walmart Link
Wash Safe Industries WS-SC-1G Clear Spray and Clean Composite Deck Cleaner, 1 gal Bottle - Walmart Link
DEFY Composite Deck Cleaner, 2.25 LB Container - Walmart Link
Composite Deck Spot Remover By Pour-N-Restore No PNRDK32OZ - Walmart Link
Simple Green Oxy Solve Deck and Fence Pressure Washer Cleaner, Colorless to Pale Straw, - Walmart Link
STAR BRITE Non-Skid Deck Cleaner & Protectant - Wash Grime out of Non-Slip Surfaces & - Walmart Link
Wash Safe Industries WS-SC-HE Spray and Clean Composite Deck Cleaner, Hose End Bottle, 32 - Walmart Link
Buy on eBay
DeckMAX Concentrated Composite & Wood Deck Cleaner Kit - Nation's Leading Wood & - eBay Link
Wash Safe Industries WS-SC-1G Clear Spray and Clean Composite Deck Cleaner, 1 gal Bottle - eBay Link
DEFY Composite Deck Cleaner, 2.25 LB Container - eBay Link
Composite Deck Spot Remover By Pour-N-Restore No PNRDK32OZ - eBay Link
Simple Green Oxy Solve Deck and Fence Pressure Washer Cleaner, Colorless to Pale Straw, - eBay Link
STAR BRITE Non-Skid Deck Cleaner & Protectant - Wash Grime out of Non-Slip Surfaces & - eBay Link
Wash Safe Industries WS-SC-HE Spray and Clean Composite Deck Cleaner, Hose End Bottle, 32 - eBay Link